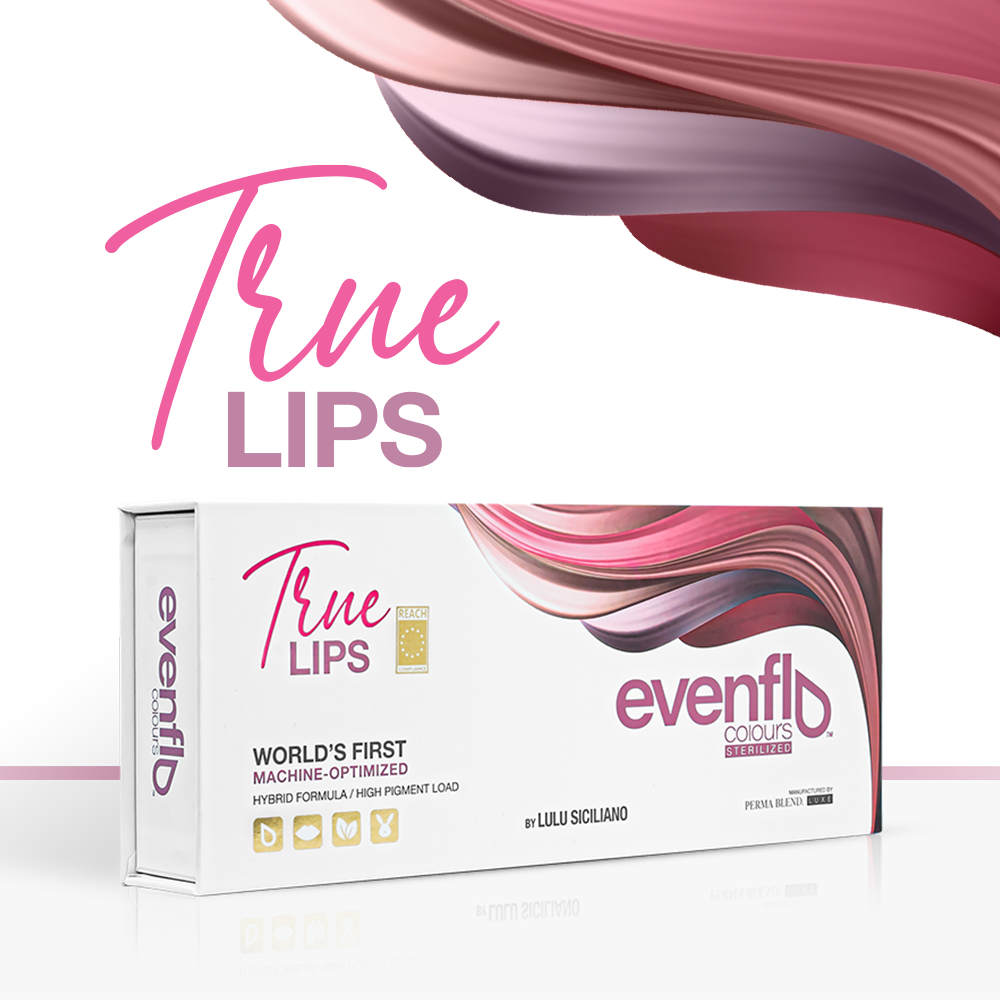 Are you having trouble deciding whether Evenflo True lips is the set for you? Microbeau is here to help you in your decision making process. We have gathered information and facts about the True Lips set that will educate and show results. 
About True Lips 
True Lips is an exciting pigment set for lips curated for you by Evenflo Colours founder and PMU expert Lulu Siciliano. Like many other Evenflo products, True Lips was manufactured with high-quality ingredients and proper safety standards to help you achieve optimal healed results every time. Now with trendy mauve and fabulously pink tones, this addition to the pigment collection is designed for Lip Blush or Lipstick techniques for both men and women. The balanced formula ensures a beautiful fading process in the long term. The Evenflo True Lips set, features 6 new colors ranging from deep, medium, and light pinks, to beautifully natural nude colors. The new, wide range of colors and EU REACH complaint formula allows artists to take on a whole new world of PMU.
Colors Included in Set: 
Dirty French
Rock Rose
Divanizer
Romance 
Royal Mauve
About True Lips Formula 
High pigment load for maximum color retention.
Formulated to prevent clogging in any size cartridge tip.
Combination of organic and iron oxides.
Reflects light and provides multi-dimensional color.
 Before/ After of True Lips 
Pigments Used: True Lips Set (Naturalista + Dirty French) 
For these before/after results, the artist has used a combination of Naturalista + Dirty French. Naturalista is a cinnamon-nude colored tone and is also a unisex color. Dirty French is an earthy, harmonious shade with a neutral undertone for natural lip results, it is also a unisex color.
Pigments Used: True Lips Set (Divanizer)
In this before/after, the artist has used Divanizer on the lips. Divanizer can be described as a powdery lilac color with a cool undertone for a natural nude look.
Pigments Used: True Lips Set (Romance)
In this before/after the artist has used the Romance color. Romance is an expressive pink with a neutral undertone. It is also suitable balancing dark/warm brown lip colors. 
Shop True lips Set Here!
If you are wondering what machine pairs well with the True Lips Set, we recommend the Flux S Max Rouge. The 2.5mm stroke is perfect for color packing, shading, and curating clean, crisp results in lip procedures. 
Shop the Flux S Max Rouge Here!