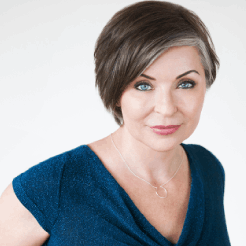 Julie is the owner of successful Prettyology Permanent Makeup Salon in Boston, Massachusetts. She is rated one of the top PMU artists in her area.
Julie's passion, desire and drive has always been to help people. Nothing makes her happier than making her clients feel "pretty" and confident about themselves.
Today, Julie, is in the spotlight for different reasons.
Stocking Up
For Julie, the coronavirus pandemic is something she has been following since late January. Never in a million years did she think that a Facebook post would start inspiring others to donate to those in the frontlines of the pandemic.
In January, when news broke out that a pneumonia-like virus was infecting people in Wuhan, China, Julie's business partner, Steve, decided to stock up on medical equipment for the shop. They bought a supply of surgical masks and gloves to last them two months. Shortly, after this they started noticing that shops were running out of inventory.
That's when they knew something was going on but business kept operating as usual.
In March, the numbers of positive coronavirus cases in the USA jumped exponentially.
Julie had a difficult decision to make, one that, unfortunately, many small business owners have had to make these past few weeks. How to keep her team of 14 safe while maintaining their jobs.
First, she provided her whole staff and clients with gloves and masks. But she knew that the close proximity clients and artists have to one another could not be good.
On 3/16, before Boston and the state of Massachusetts issued a notice for all non-essential businesses to close down, Julie closed the shop. She had to furlough her staff. This was not an easy decision to make.
After Closing
Her business partner then remembered they still had all the medical equipment and not knowing when they will be able to open shop again, they decided to donate the masks and gloves to the nearby hospital. A nurse Facebook friend of Julie posted that her hospital was looking for donations of masks and gloves. She quickly reached out and drove to Newton-Wellesley Hospital to deliver the supplies.
Life-Changing Moment
At the hospital, coronavirus became human.
"Seeing it on TV, the radio and reading about it, is not the same until you actually live it." I saw the coronavirus signs, the doctors and the nurses wearing gloves and masks."
When she pulled up to deliver the supplies, a nurse came and picked it up. For Julie, she will never forget this moment.
The nurse started crying and told her "you have no idea how many people you are helping right now." An emotional moment for both they stood in solidarity knowing how dire the situation is.
As soon as she got back to her car, Julie started crying. With her emotions high, she logged into Facebook and started writing about the encounter. Never did she think the world would react the way it did.
World's Reaction
"The most likes I've ever received had been like 300. It just blew it." People from all over the world started reaching out, re-sharing, liking and commenting.
It's not every day that a Facebook post goes viral. We're talking over 400,000 thousand shares, 30,000 comments and over 305,000 likes. All organic. Numbers that a marketer can only dream of.
The timing was right.
This even inspired other artists to do the same.
Julie's Message to the Body Art Community
Julie's salon is only 4 blocks from where the Boston Marathon bombing took place. Her and her team survived the Boston bombing. They've faced tough times and have been just fine.
This encounter was something she had never experienced before.
Her message to her peers in the industry is to donate masks, gloves and other cleaning materials that they may have. Even if the glove box is opened, still donate. The first responders and medical professionals will accept them. Anything helps.
While the surgical masks might not be N-95 masks, the surgical masks can help the N-95 last longer. Hospitals are still accepting them.
"We are in this industry to help people, make them feel better about themselves. It is a "cool" industry, but we must all do our part."
She knows that we will all be ok.
"We're people in the industry. We're used to the uncertainty, we're self-employed, we've lived through tough times. This is no different."
As of March 30th, the U.S has over 142,000 positive cases of coronavirus – the most in the world.
Medical professionals need PPE materials. We encourage you all to help if you can.
If you would like to donate medical equipment, PPE, to hospitals and medical professionals, visit the following websites or locations:
· PPE Link
· Universities such as Johns Hopkins, University of Michigan, and Massachusetts Institute of Technology
· The County of Santa Clara Health Care System in San Jose, California
· Cambridge Health Alliance in Massachusetts
· Scripps Memorial Hospital La Jolla
When you donate use the hashtag #Artists4PPE