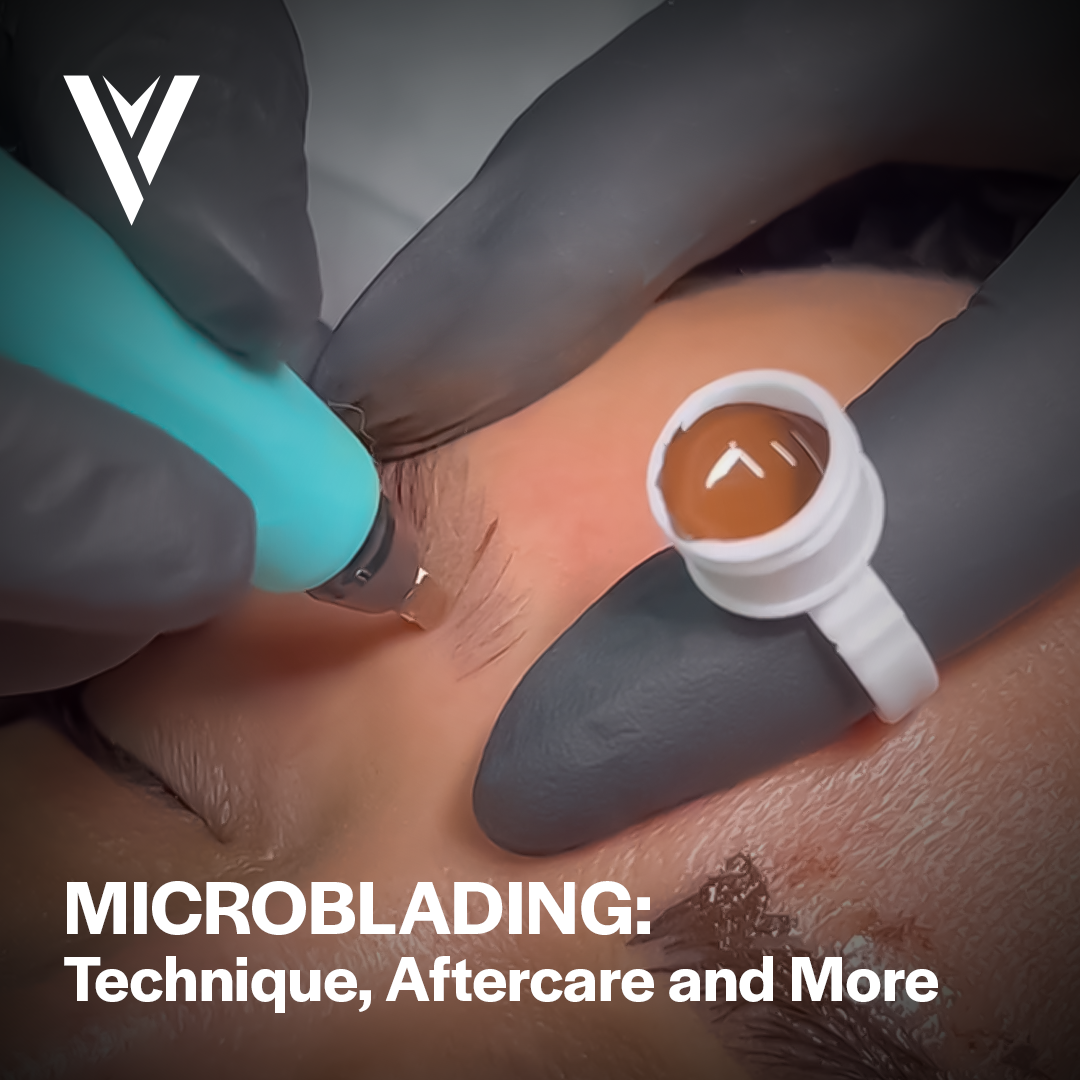 Photo credit: @andreacostapmu
Brows have always been a hot topic in the beauty industry. Thin, bold, feather-like or natural – they have sparked many permanent makeup techniques over the years. 
One of the most popular techniques is microblading. Born from Asia, microblading is a form of semi-permanent eyebrow tattooing, ideal for achieving a natural brow look.  
Many PMU artists began their careers with microblading and, although there has been a shift to machine work, a large population of artists still offer it as part of their everyday services. Whether you're a microblading expert or interested in learning more, we're breaking down all-things microblading from start to finish, so you can take your PMU business to the next level.
 Microblading: What It Is and Isn't 
The word "microblading" has been thrown around a lot in the industry. A common misconception among clients is that microblading encompasses all techniques and procedures related to brows. It is often confused for nano brows, a hairstroke style created using permanent makeup machines. 
But microblading is much more specific. It uses a precise, pen-like tool with thin "blades", or single-use needles, to scratch the surface of the skin and create individual hairstrokes. As a result, the artist can manually add volume to the brows, enhance symmetry and complement the client's overall facial features. 
Technique is Key 
Microblading is an art form that requires practice and precision. Since you are essentially scratching the surface of the skin, it is important that you don't press the blade too lightly or too deeply into the skin. 
If you press too lightly, you stay in the epidermis or top layer of the skin. Here, the pigment may not be implanted properly, causing your work to fade more quickly. Microblading works best in the dermis, or middle layer of the skin. But if you press too deeply, it may cause additional trauma to the skin.  
Don't be alarmed – scabbing is a normal part of the healing process. However, if you are constantly pressing deeper into the skin, especially during touch-ups, you run the risk of permanently scarring the brow.  
We recommend always practicing microblading on latex skins first to ensure safe and proper technique. Pro Tip: When creating hairstrokes, do not place the lines too closely together, but rather leave a gap in between to prevent excessive scabbing. 
Not All Skin Types Are Created Equal 
Not everyone is going to be an ideal candidate for microblading. Clients with dry to normal skin or smooth skin (skin with smaller pores) have better, long-lasting results while those with oily or combination skin tend to experience faster fading.  
Plus, if a client is looking for highly pigmented brows and bold borders, microblading may not be the right choice. While microblading allows the artists to build up the brow, the final look will appear very natural. 
That's why it is our job, as permanent makeup artists, to listen to our clients' needs and find the right procedure for them.  
Aftercare: Less is More 
After a microblading procedure, the rule of thumb is to avoid touching the brow area whenever possible. 
It's normal for the client to experience scabbing after a microblading procedure, and when done properly, the scabbing should be gone in a couple of days. After three to four weeks, clients should be able to see fully healed results. 
To aid with the healing process, clients can also:  
Machine or Blade, Why Not Both?   
Permanent makeup machines have quickly become essential for the PMU artist. Machines use one or more needles to make tiny dots in the skin. As the needle is inserted, pigment is implanted into the skin, allowing for higher pigmentation. Artists use small movements and shading to create a variety of brow styles, such as hairstrokes, powder, ombre or combination brows. 
Microbeau prides itself on designing state-of-the-art machines to help you take your PMU business to the next level. Now, as we break into blades, our goal is no different.
From the minds that brought you Vertix Pico, Vertix Micro is our newest micro-blading collection built with the highest safety and quality standards. While traditional microblades tend to be longer and more flexible, Vertix Micro features stiffer blades, giving artists more stability so they can color pack safely. 
Our collection includes:
With machines and microblades at your disposal, you can bring next-level mastery and customization to your business. Rather than offering one or the other, you can now blend both techniques to achieve the perfect combination brow look.