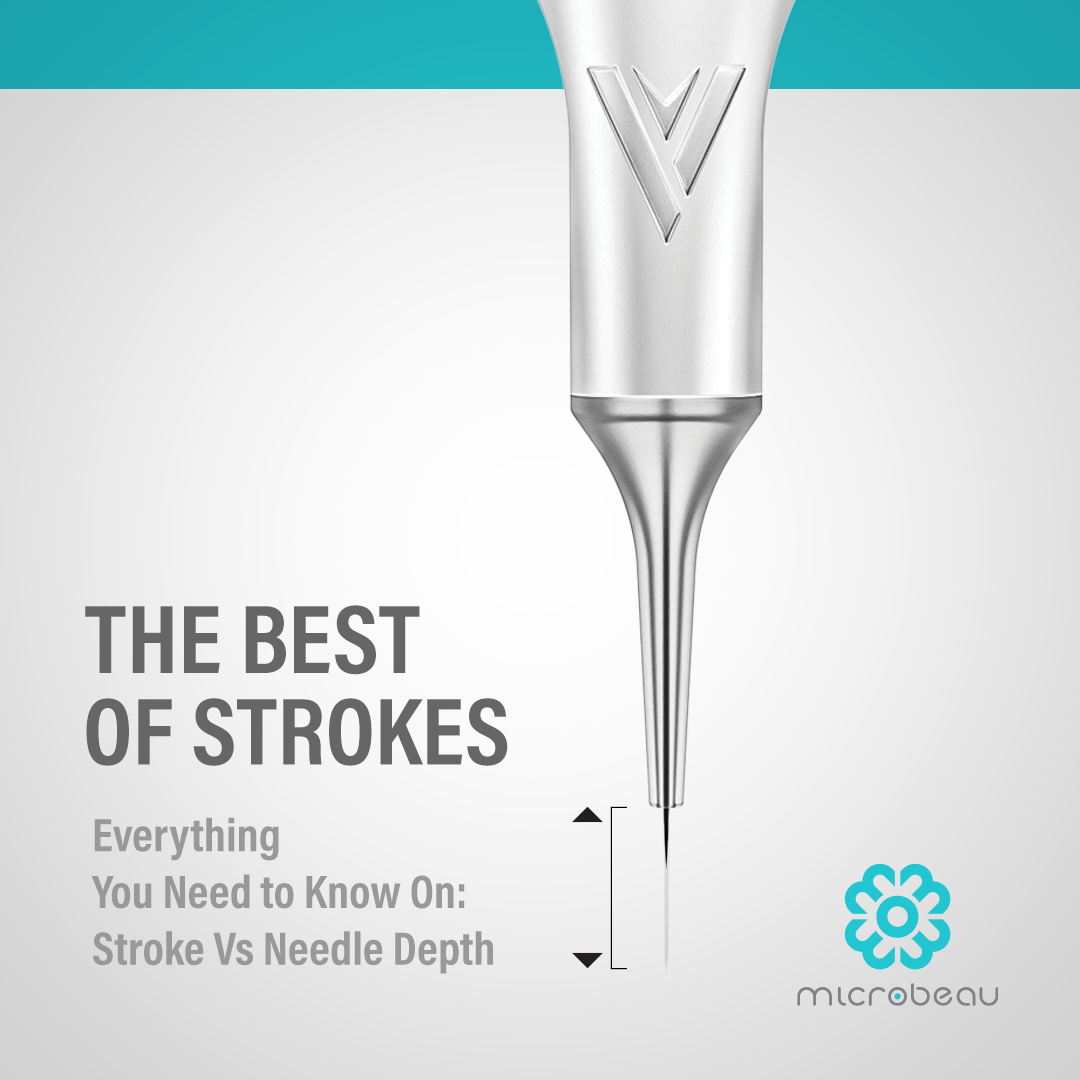 Everything You Need to Know On: Stroke Vs Needle Depth
As we understand that many artists are only beginners in the PMU industry, Microbeau is committed to the growth of understanding and education about essential PMU knowledge that will be a milestone in your career. From being able to perfect your desired technique, to curating your own personal and unique style, to purchasing the ideal equipment, Microbeau is here to help you on your journey as an artist.
One of the key aspects for beginner PMU artists are the different features of the machines, and how it relates to the procedure being performed. In this education piece, we are aiming to illustrate the importance of being informed on the various strokes, also known as "throw," and why they affect the outcome of your work. 
Stroke lengths are used for different tattooing techniques and procedures. Depending on which your machine preference, the stroke can vary. Often, strokes are confused with needle depth, but we are here to clarify the difference between the two. 
An important note to keep in mind is that preferred stroke lengths directly correlate with personal unique style. So, before you can figure out which machine and stroke are ideal for you, we recommend assessing which procedures you want to perform and what feels comfortable for you. 
Stroke Key Features
Defines the maximum needle depth.
Defines how hard the machine hits the skin during a procedure.
Defines how fast the needle will move.
Needle Depth VS Stroke
A machine's needle depth will determine the distance between the needle from the tip of your cartridge. Whereas stroke affects how the needle retracts and collects ink. Both the needle depth and the stroke should match in size.
Microbeau Recommends
Vertix Pico Needles & Vertix Nano Needles
Vertix Pico Needles
Vertix Nano Needles
Rotary Machines 
When working with a rotary machine, the stroke will be how the cam travels around the bearing in a single rotation.
Short Stroke 
When using a short stroke, you can expect for the needle to move slower and to permeate the skin softer than higher strokes. This stroke is optimal for the artist who will be performing blending or soft shading PMU procedures. A stroke of 2.5mm or less can be considered short, and in the PMU industry this the most common and preferred stroke length of many artists. 
Medium Stroke 
Medium stroke lengths (2.7mm-3.5mm) are highly recommended for beginner artists, as they are the most versatile, safe, and inclusive needle lengths to use for a variety of procedures. If you would like to perform shading and packing techniques, this is the stroke for you! However, this stroke length is not recommended for precise, fine linework procedures. And although it is compatible with small needle cartridges, your final product may not be as clean and concise as that of a small stroke.
Long Stroke  
Long strokes (higher than 3.0/ 3.5mm), are often used by the more experienced artist for intense, single-pass lines. These strokes are also a great fit for gray shading and color packing. Longer strokes will feel like a heavy hit on the skin and permeate lots of ink. These strokes must be handled by experienced artist since they should only be used for single passes and anything more can be traumatic to the skin.
                                 Microbeau Recommendations 
Short Stroke Machines:
The Flux Mini
https://www.microbeau.com/products/flux-mini-bubblegum
The Bellar
https://www.microbeau.com/products/bellar-rose
The Xion Mini
https://www.microbeau.com/products/xion-mini-gunmetal
The Spektra Xion S
https://www.microbeau.com/products/spektra-xion-s-pink-special-edition 
Medium Stroke Machines:
The Bellar V2
https://www.microbeau.com/products/bellar-v2-seafoam
Long Stroke Machines:
Flux S