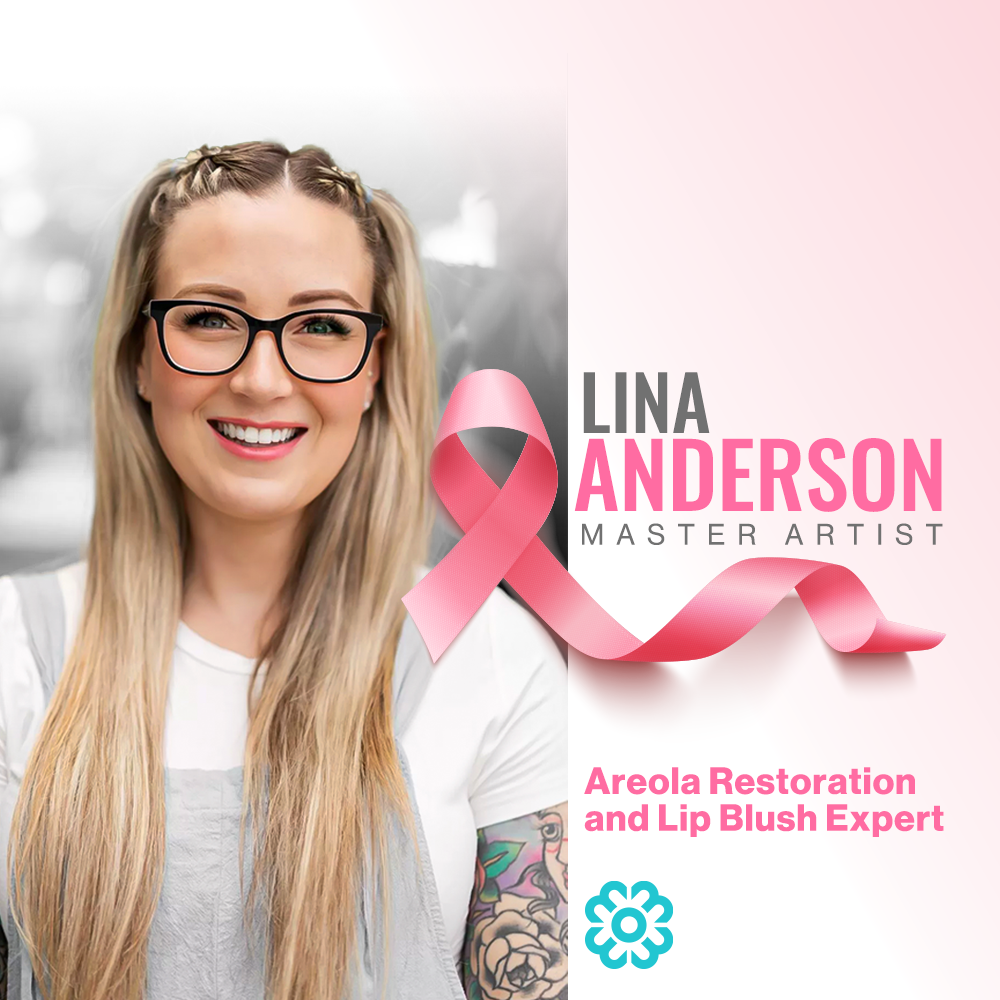 Microbeau is proud to be collaborating with master artist, Lina Anderson in honor of Breast Cancer Awareness Month, Lina is a PMU artist who specializes in Areola Restoration and 3-D Nipple tattooing.
According to her website, "Lina helps many men and women to feel whole again after mastectomies, surgical modifications, sexual transitions, and other scarring or fading. Repigmenting the area can add natural tints without looking 'Tattooed.' Everything she does, she does to keep things as natural as possible." 
Another area of expertise for Lina is in the lip blushing department, where she specializes in her "velvet lips" technique. Lina focuses on pixel-perfect line work and precision with her lips, meanwhile emphasizing her clients' natural beauty.  
Apart from this, Lina and Daela Cosmetic Tattoo studio donate 10-20 free services monthly across the PMU board for cancer survivors and clients diagnosed with alopecia. 
Lina's Work: 
Read along to learn more about Lina and her experience as an Areola Nipple tattooing expert. 
How would you describe your experience working with clients that have experienced breast cancer, and how do you feel you have impacted their lives?  
Working with the Breast Cancer survivor community is unlike any other in the industry, these clients are special. They have been through so much but are so strong and kind. It's remarkable how much a tattoo can change the way someone looks at themselves and feels. Clients become close friends and are always so excited to look in the mirror. Often, tears and hugs are shared.   
What is one thing you wish the PMU industry knew about your specific type of work with clients who have experienced breast cancer?  
I am constantly training and sharing my technique. There is sadly so much work being done on these survivors that isn't quality work and if I could give any advice, it would be to make sure you're getting good in-person training with a live model to ensure proper tattoo depth, technique, and color. My technique is extremely natural, 3-D, and has nicely healed results, lasting for many years.  
What are your favorite PMU procedures to perform?  
I am a very niche artist focusing on Lips and Areola Restoration. I feel that when someone takes a service and focuses 100% of their efforts to become the best, then they can become a true master. Lips and Areola both focus on making people feel amazing and that's the best part of my job! 
Which machine works best for areola procedures?  
I am beyond obsessed with my Microbeau machines including the Xion S, Flux S, Flux Mini and the new Bellar Air. They pack a punch but also are easy to use and lightweight!  
What are your five essential tips for a PMU artist?  
NEVER RUSH, perfection and detail takes time, always keep learning and pushing yourself to grow and be patient in all things you do PMU. 

Skin stretching, machine positioning, and technique matter. Take time to learn the proper techniques for implanting pigment. When working with machines, there are so many ways to hold and use them. Make sure your work is coming back healed beautifully and how you were expecting. Never be afraid to change your technique and work to achieve the best healed results. 

Trust your judgement. When working with clients, it's always best to be confident and trust yourself. Never allow anyone to compromise your work or your worth! 

Working with color is so fun and can be hard but will get easier as time goes on. Keep trying to learn and find understanding of color corrections, colors and tones. Color is a MAJOR part of our job and it's important we always seek understanding of how to use it properly. This way, when you're doing amazing work, it is shown properly. 

Have fun, PMU is fun! You should enjoy work and make friends with your clients. Show your personality and stand out. Work hard, be yourself, and you will be successful.
How do you elevate the experience for a client?  
We offer water upon arrival, warm robes for undressing, and talk our clients through each step of the way! It's important you tell your clients everything and ask thoughtful questions during the appointment to make an impact. 
What are some best practices during procedures, and what to avoid?    
Always take your time to set up properly, use good quality needles and tools, and be safe to avoid needle pricking and cross contamination by following all Blood Born Pathogens practices.  
Could you share more details about your PMU educational master classes?  
Join master artist Lina and learn the magic of Areola Restorative tattoo. She uses her original machine shading and linework areola and 3-D Nipple technique to recreate what was once naturally there with little to no pain and NO downtime. Lina has internationally trained and traveled to create a technique of many other masters combined. She is a leader in Areola Restoration, breast scar camoflauge, lip blush, dark lip neutralization, men's lips, color theory and facial scarring in the tattoo industry. Become an expert in machine technique, 3-D tattoo and anatomy and leave ready to work. Lina will also help you learn about breast cancer, surgery types, industry standards in paramedical, genetic mutations, implants and insurance. Whether you're someone who is in another profession in the beauty industry or someone who has no experience in cosmetics or cosmetic tattoo, we're here to help make the transition into this amazing network possible. If you do not have any experience, we highly recommend an in-person training like this with a live model to start out. 
Could you share background information on you as an artist and how you got started in the industry?  
I started out in the industry 6 years ago when I flew to London to train and study PMU. I later went to school in Oregon at the Cosmetic Tattoo Academy. I also trained with Terry Lively in Texas in 2018. I have since grown my skills and learned from many masters until I became a master and trainer myself. Erica Johnson and I own a multi-million-dollar company called Daela Cosmetic Tattoo studio. Together we have locations in Vancouver, Washington, Portland, Oregon and now Scottsdale, Arizona coming in 2023. We have a team of 20 master artists and are so proud to be producing top of the line PMU work. We have the most 5 star google reviews of any PMU business in the entire USA. We are so proud to be able to now offer a franchising opportunity to other master artists interested in owning a Daela Cosmetic Tattoo in the US.  
To learn more about Lina and the Daela Cosmetic Tattoo studio, visit: https://www.daelaportland.com/lina/