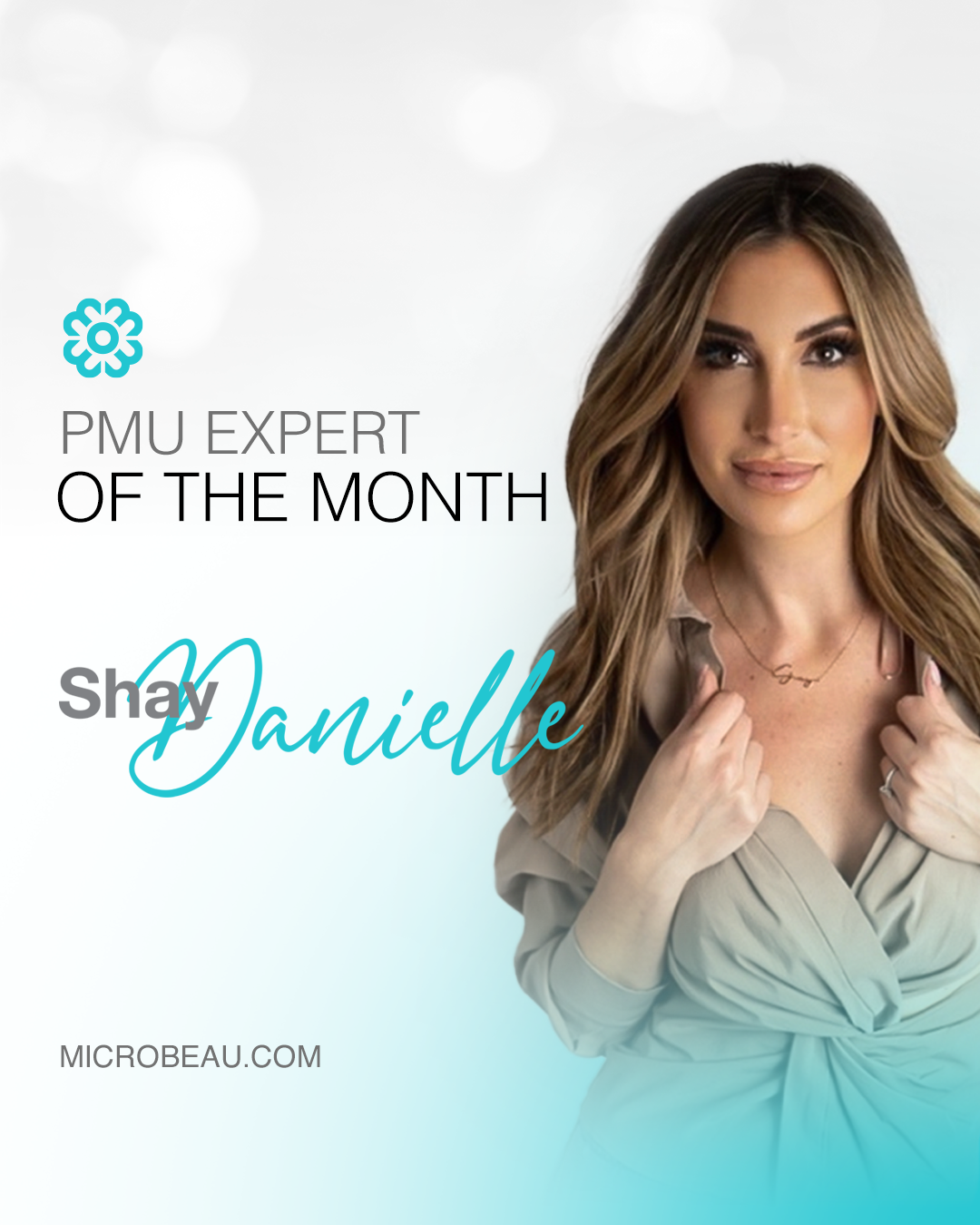 Hello all beauty experts! Microbeau would officially like to introduce our July expert of the month, Shay Danielle.
According to her bio on her website, Shay "Is the founder of Shay Danielle Academy Online. Shay has been in the PMU industry for over a decade. Her passion and drive for all things beauty have led her to become a very successful business entrepreneur."
Boss-lady, mother, and wife, Shay has been a trailblazer in the PMU community since the very beginning. With over a decade of experience in permanent makeup, Shay has created a bond with her craft that is unshakable.
On her website Shay shared, "With my many years of experience, I have been able to use my passion and knowledge to create numerous online training programs that have revolutionized the PMU industry and served over 60,000 students."
Shay hopes to reinforce the PMU community with a strong emphasis on spreading knowledge and support to assist those in the industry who may be struggling to kickstart their career as a business owner and entrepreneur.
"She's an extremely talented artist as well as a Master Microblading and Permanent Makeup Instructor who has created numerous online training programs based on her knowledge and experience over her years in the PMU industry."
"Shay works day and night to bring you the best of the best when it comes to Online PMU Courses. She hand picks each course to ensure it meets the Shay Danielle Academy Online Standards!"
We understand that embarking on your journey as a PMU entrepreneur can be difficult without some help. For this reason, we have taken the time to get to know Shay and we'd like to share a bit of her expertise with you.
Microbeau sat down to chat with Shay and asked to give us her insight on PMU. Read along to find out how Shay transformed her life and became a PMU guru in no time. 
                                                    Q & A
Would you be able to provide us with a short biography of yourself?
Shay Danielle is the owner and CEO of Shay Danielle Academy Online- a one stop shop for all of your PMU education needs. For as long as Shay can remember, she has been intrigued with EVERYTHING beauty and always held a passion for art. Shay has been in the Permanent Makeup Industry for over a decade and her passion for education leaves her striving to support and grow the next generation of PMU artists.
What was your original career and why did you transition into PMU?
Before entering the PMU industry, I worked as a flight attendant for an airline. I loved travelling, but it didn't feed my artistic needs. I began cosmetic tattooing as a hobby/side job and within 6 months I was so busy with clients that I let go of flight attending to focus on my own business and never looked back! Doing what I love every day is a gift! The paycheck that comes along with it is only the bonus!
What are some things you wished you knew when starting out PMU?
Looking back, I wish I knew the true power this industry holds.  I never thought that my 'little PMU side hustle' would one day grow to be such a large corporation that services artists all around the world.  Education was never a goal of mine at the beginning but with time, it naturally progressed, and I headed down that path. I also had no idea how much one simple decision would shape my life and the life of loved ones around me.  Don't ever let anyone get in the way of big dreams.
What was something that you didn't expect about the PMU industry?
One thing I did not expect about the industry was the lifelong bonds I would make with other artists. I have PMU friends all around the world who share the same passion I do! 
It really can be an overwhelmingly supportive community if you allow it to be.
What PMU procedures do you perform the most?
Being a 'jack of all trades', Shay offers a large assortment of treatments in her studio including Brows, Lips, Eyeliner and Paramedical Tattoos.  She started with brows and that will always be her favorite.  The instant gratification of helping someone feel more confident never gets old.  
Can you provide some best practices?
To be the best you can be, you have to invest. You have to invest your time into education and practicing your craft.  You also have to invest in the tools you use. Be sure you are using high quality products including your machine, needles, pigments, and aftercare.
What are some of the machines/ products you use and what procedures are they used best for?
I'm currently obsessing over my new flux mini.  It's so lightweight yet so powerful. I love it for nano strokes and the new Pico needles are out of this world.  For lips- my go to machine is and always will be my Xion S.
What advice would you give to someone considering a career change into PMU?
If you feel like your current job is not fulfilling you, take the leap. Take the risk. Life is so short and being able to turn your passion into your career is the most rewarding change you could possibly imagine.