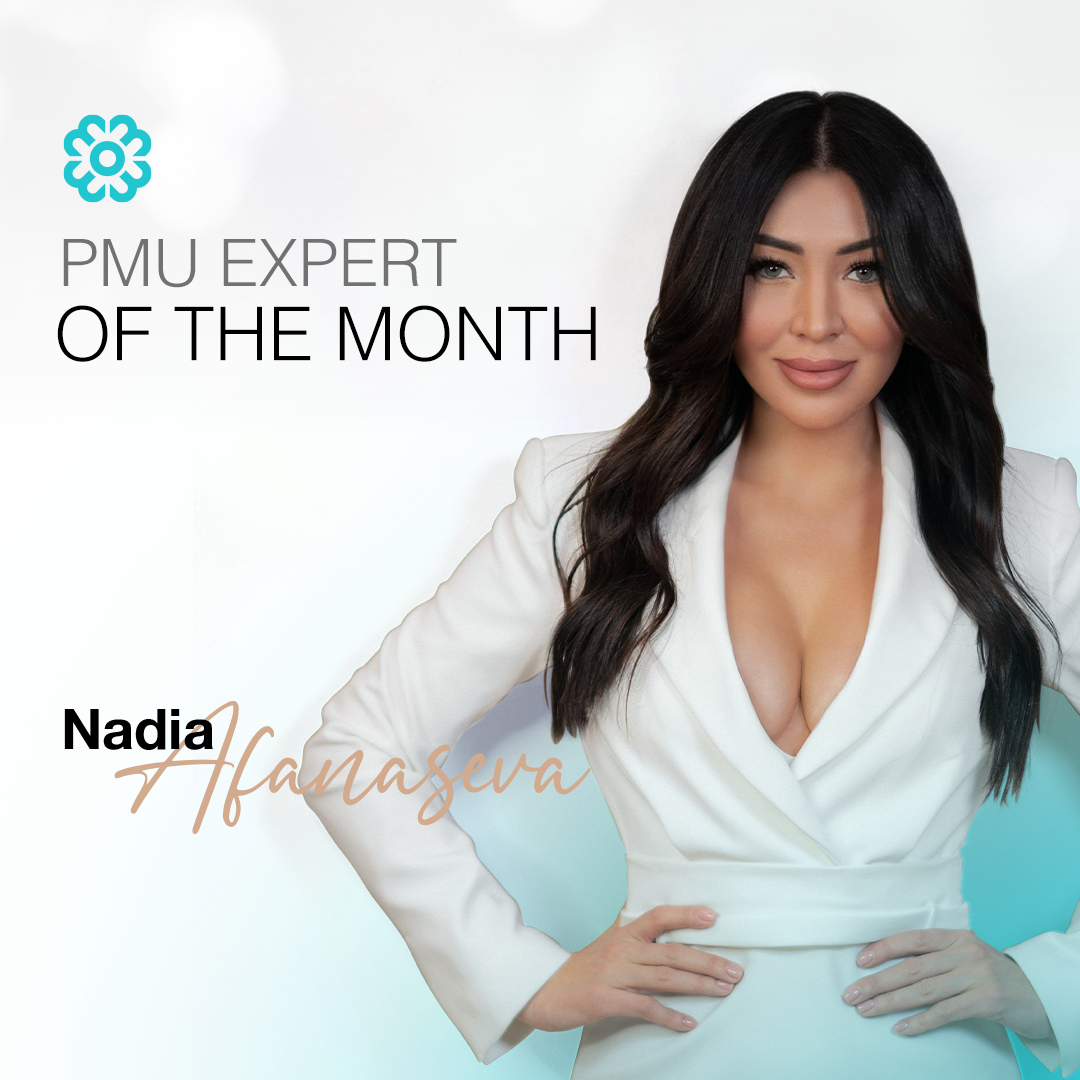 Nadia Afansaseva
                                        August Expert of the Month
Microbeau proudly introduces master artist, author, and teacher Nadia Afanaseva as our August expert of the month. Nadia is a renowned artist serving a long and impressive clientele list featuring VIP clients and celebrities. Her expertise stemmed from big aspirations and humble beginnings to becoming a major influence in the PMU world. Nadia was born and raised in a small town in Russia where she was othered for being different. Instead of allowing society to tear her down, she stood tall and dreamed big. Nadia wanted to change the world and make it more beautiful, which sparked her passion for the PMU industry.  
Nadia became a lash expert in her home country from an early age, competed in several lashing competitions, and began her career in the beauty industry. After becoming a grand success in her home country, she decided to take her talents to the "Big Apple," where she now resides. Nadia was the first person in the U.S. ever to offer eyebrow extension services, which was later replaced with the very popular service, Microblading. 
Three years after moving to the U.S., Nadia opened her dream beauty salon in New York City's "Billionaire's Row." At this studio location, along with her other studio in Los Angeles, California, Nadia trains beauty professionals in how to perfect advanced PMU techniques. Nadia also offers online training for students, has her own beauty products line, and is soon expanding her empire to Miami, Florida.  
Author of "Kim Effect," a globally recognized lash extension technique guide, Nadia is an inspiration to us.  
Nadia has decades of hands-on experience and vast knowledge of the PMU world. Microbeau would like to provide artists worldwide with some valuable information that may help on the way to becoming an entrepreneur in the PMU business. 
Read our interview with Nadia to learn how she achieved her goal of "making the world more beautiful."
                                                     Q&A
What are your favorite PMU procedures to perform?  
My favorites are nano-blading and, more recently, Lip blushing. In general, I have always loved doing eyelash extensions; in fact, I started my way in the beauty industry with it. When I worked with eyelashes, it was like therapy. This procedure reminds me of art, and I consider myself an artist at heart. That's why nano-blading is my favorite treatment because it reminds me of the feeling of creating something beautiful when I'm painting hair like an artist. In second place is the lip blush procedure. I recently fell in love with lip procedures. In the beginning, I didn't like this procedure, but love, as we know, comes unexpectedly. And it came to me when I did some cool work a few times, worked up a skill, and saw the result. That's when love came.  
Which machine works best for which procedures?  
For nano-blading, I use the Bellar machine. For brow powdering, I use the Xion S, and for lips, the Flux S. In my opinion, these are the most comfortable and easy-to-use machines. But the Xion S is the most versatile and can be used for all procedures.   
What are your five essential tips for a PMU artist?  
First, the master must constantly learn and improve their skills because there is no limit to perfection.

 

Secondly, practical training on artificial skin will help you hone your skill and develop your own author's pattern. Try to practice with artificial skin as an experienced master, and you'll understand how new ideas about techniques, placement of hairs, and patterns come into your head.

 

Third, learn about psychology because the psychology of communication with the client is the most important aspect of the job. You depend on your client and their feedback.

 

Fourth is appearance. Take care of yourself and your clothes' cleanliness and ensure a fresh, rested appearance.

 

And last is, of course, to love your job and have passion for your work. Social activities in the beauty industry, such as conferences, contests, and events, can help elevate your interest.

 
How to elevate the experience for a client?  
Of course, to provide excellent service. You may ask yourself, what is "good service"? 
Some masters think that they don't need to communicate with clients, don't want to pry into their business and that it is the best practice, but communicating is very important. You can immediately tell if your client is not ready to communicate. However, clients often want to communicate and share their thoughts and stories with a person from the outside to hear an opinion, assessment, or even advice. I encourage you to become a friend to your client for the duration of the procedure. And, of course, create a positive atmosphere. You can use scented candles, so long as you don't forget to ask your client if they are sensitive to smells. Offer water/tea/coffee. Simply put, express your love, and your client will surely appreciate it. 
 What are some best practices during procedures, and what to avoid?    
Disinfecting work tools and organizing the workplace are my necessary daily practices. But using disposables for every client is also a great practice. You can order disposables on Amazon, and you can also find many disposables at our online store, Eye Design. We are well versed in the beauty industry and know all the nuances that craftsmen encounter during their work. Because of our extensive experience in the beauty industry, we make some of the best disposables in America.  
I do not perform a procedure on someone if there is old micropigmentation done by another master because I don't know the pigment or how deep it is under the skin; therefore, it complicates the job and can make things worse. Most of the time, clients come from another master when they don't like something. Often clients are not happy with the shape, the color, and the technique. But in that case, they need to go through an entire course of pigment removal and then come to me for the procedure.  
 Could you share more details about your PMU educational master classes?  
We have three PMU classes that take place over three days: Lip Blush, Microblading, and Nano-blading. Currently, they are taking place in two states, Miami and New York, but we also plan to launch in Los Angeles. These classes can also be taken separately as a professional development class for any professional level. You can choose one day to take a course on any technique, choose two days at a discounted price, or take the whole 3-day course, which is also discounted.  
We also offer eyelash extension courses, which are very popular because we teach some of the best techniques. At Kursk, I select the best theoretical knowledge and practical technique and teach them using the most advanced technologies.  
How did we come to be the best in the industry?  
I took classes from TOP Russian PMU masters, who taught me all my experience, and collected more knowledge over the years from the best of the best to create my own course. 
Could you share background information on you as an artist and how you started off in the industry? 
My career in the beauty industry began in 2010 in Russia as a master of eyelash extensions, where I took two years to reach the highest level of skill. After moving to America, I opened lashboom, launched several successful training courses, opened three salons, and eventually left eyelash extensions behind to begin studying and taking my career in another direction - microblading. 
In 2016 I started to learn microblading, and today I am considered a top master in eyelash extensions and microblading. My journey in mastering these two arts took several years, which I speak more of in my first book, "No Magic Button for Success," coming out in September 2022 on Amazon. In it, I talked about my journey from a small town in Russia to a premium salon on Fifth Avenue. If anyone asks me what got me here today, I will say that hard work, faith in myself, and a love for what I do have been my eternal companions along the way.  
Shop Nadia's Favorite Microbeau machines.
Flux Mini:
https://www.microbeau.com/products/flux-mini-champagne-gold
Bellar V2: 
https://www.microbeau.com/products/bellar-v2-rose-gold