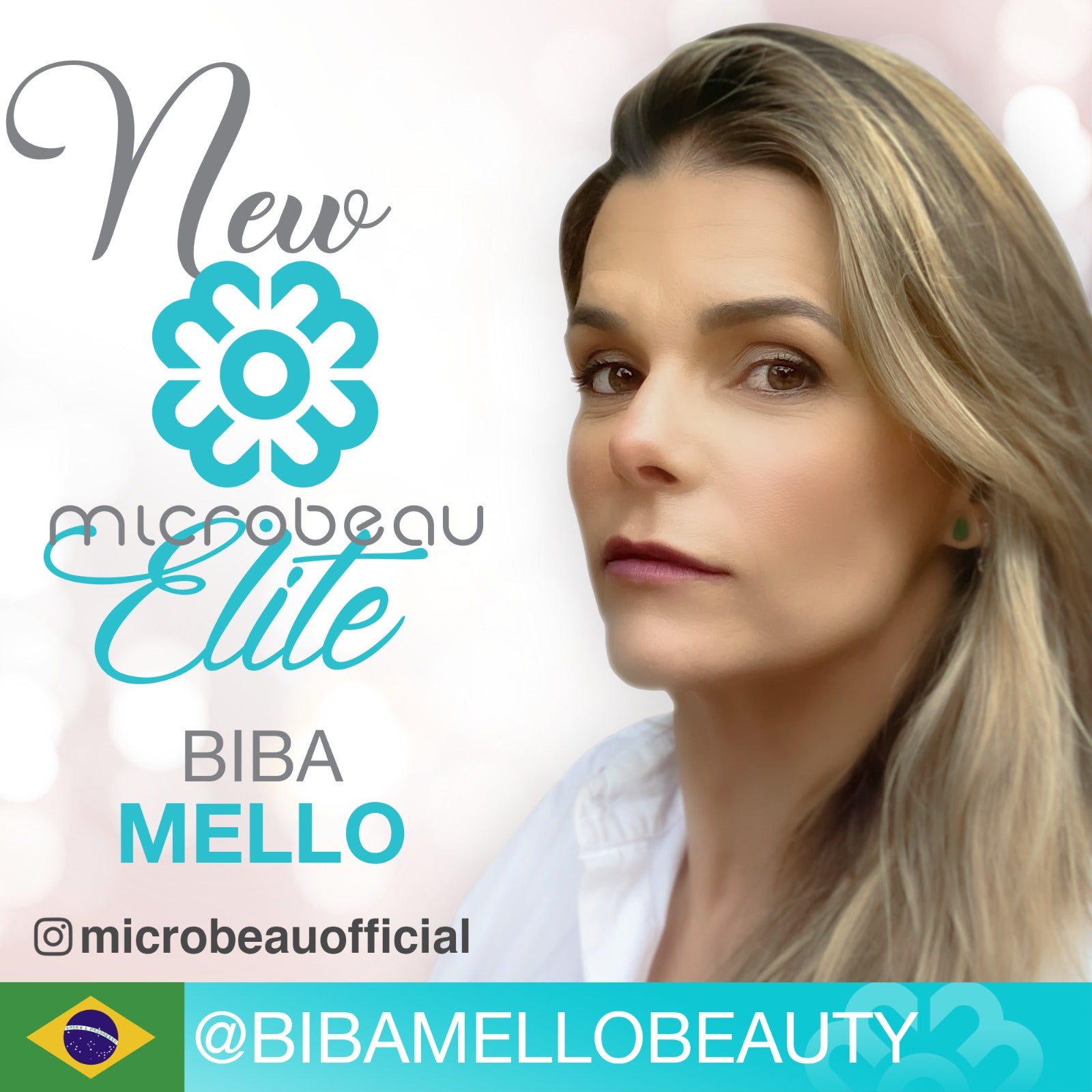 Meet Biba Mello, our newest Elite member. We are excited to have her on board and can't wait to see more of her cosmetic tattooing procedures using Microbeau's quality machines! Born in São Paulo 🇧🇷 Biba works with some of Brazil's most beautiful models, actresses and artists. 
Follow Biba on Instagram or sign up for an appointment in São Paulo for a glamorous look. 
Q: How did you get into permanent makeup?
Biba Mello "Before working with permanent makeup, I was an advertising film director.
I have always been passionate about beauty and when I became a mother I thought it was the perfect time to change. I took several courses in Brazil, Germany and the United States and became a PMU artist committed to delivering a work of excellence.
Q: What drew you to become a PMU artist?
BM "I became a PMU artist because makeup and aesthetic medicine have always been a great passion. In PMU, I found a fusion of these two areas.
I was tired of working odd hours and not having a schedule for my day as a film director. In this profession [cosmetic tattooing] I also found a more interesting way to organize my life."
Q: How long did it take for you to perfect your lip technique?
BM "I took some courses in the area of ​​lips but ended up creating my own way of working that seems more organic to me.
It took me about one year to improve my technique, training at least one hour daily and offering at least one procedure per week as a courtesy to a model to be able to practice more and more.
Nowadays, I do an average of eight lip procedures a week."
Q: How popular are PMU procedures in Brazil?
BM "Brazilian women - and men - invest a lot in their appearance. PMU is very popular and the lip blush procedure is the new boom!"

 
Q: What advice do you have for beginner PMU artists?
BM "There are no shortcuts to success ... if you don't feel like training at least an hour daily this area is not for you.
After any course your hand needs to be trained relentlessly ... the reward is overwhelming, believe me!"
Q: What advice do you have for PMU artists who are interested in growing their Instagram following?
BM "To grow your Instagram following you need to be equally connected outside of it. There are partnerships with models, celebrities who help a lot in publicizing your work. Another important point is how your work is being shown. Invest in good equipment to take good photos because a beautiful work poorly publicized and badly exposed is very devalued."

 
Q: What's the hardest thing to learn in PMU?
BM "I will be very honest: cosmetic tattooing is very difficult, full stop. Especially for people who are not willing to serve and donate. Once your hand and aesthetic sense is developed, all techniques seem to be more accessible.
But the type of work that I find most difficult is areola because it involves a very large emotional charge behind the work."

 
Q: Talented artists can get sponsored by various brands, what attracted you to the Microbeau brand?
BM "I'm crazy about precision! And crazy in love! Microbeau equipment enables precise and defined work. It's also high-tech!"

 
Q: What are some do's and don'ts for how you interact with your clients?
BM "What you should DO for your client:
always explain with full transparency each step of your work
always take pictures before and after (this can save you a lot of headaches)
never forget to fill out a medical history form with your client
BM
"What you should
NOT do
talk about other clients to your client (you must be discreet)
don't have a pessimistic attitude or tell your personal problems (your client is there to raise his or her self-esteem and not hear problems)
don't speak badly about other professionals, no matter how much the customer complains about them, instead: listen, try to correct it but refrain from speaking"