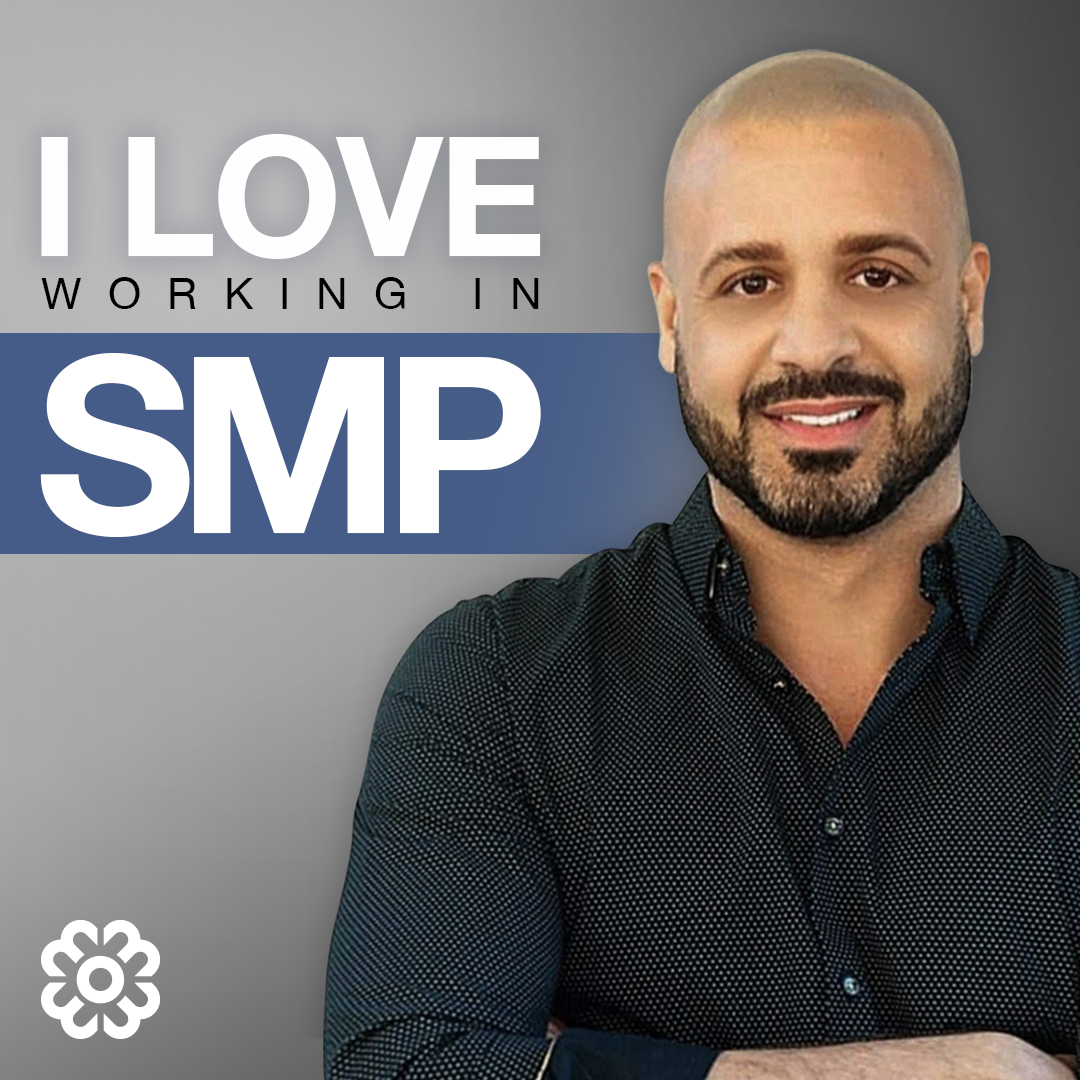 When considering what fields to go into or services to add, scalp micropigmentation used to be a little-known field. Today it has grown in popularity with the great results of some artists, like our SMP Elite, Seif Sidky, who produce natural-looking work that gives an immediate and incredible confidence boost to his clients.
Like any tattooing-based procedure, there is an art and technique that must be perfected before actually taking on clients. Seif insists on this.
He also takes the time out of his packed schedule to give us insider tips on working in the field and why he loves his work.
Q. How did you learn about SMP?
Seif Sidky: Of all the media channels, I actually heard about SMP on satellite radio driving across the Everglades one day in 2015.
Q: How did you start working in the field?
Seif: I was getting my own scalp done and had to drive 3.5 hours each way and I thought to myself: "How is this not prominent in South Florida? It's such a metropolitan area with so many image-conscious and beauty-centric people. Some might even say it is a 'vanity capital.'" So, there was a gap and I tried to address it by setting up a business.
Q. How does SMP compare to other related fields?
Seif: Compared to permanent makeup or body art, for example, I believe SMP requires more meticulousness and more patience overall because of the long, multiple sessions needed to achieve natural results.
Some say it is less artistic of a craft, but I believe the artistry comes in the ability to create multidimensional texturing by layering it over time on a flat canvas.
Q. What kinds of successes have you enjoyed with SMP in your professional or personal life?
Seif: Not to sound cliché but SMP has changed my life, professionally and personally. Professionally, having the ability and the power to improve people's lives is as rewarding as it gets for me. The money is not too shabby either, but for the first time in my life I now work for the love of it and the money is just a by-product.
Also being an international trainer has allowed me to travel globally even more than I had before (at least pre-COVID). No one had to try to convince me to travel, work and teach simultaneously. Just sign me up!
Personally, aside from the confidence that has been restored in me due to my appearance improving, I am also taking much better care of my overall health, which is a blessing.
Moreover, SMP has taught me to be more patient and more empathetic towards people, as I meet people from all around the world and from all walks of life.
Q: Were there any surprises when you started working?
Seif: When I first got into SMP, my vision was to simply get into the business of SMP and not necessarily become an artist myself. Quickly, I learned that no one will care about your business more than you and that I had to be more hands-on if I wanted to succeed.
I never thought I was artistic prior to picking up a tattoo machine, but because SMP mixes art and geometry, it has brought out the artist in me that I did not know existed. I thought I was a numbers guy!

Q: What machines do you like to use?
Seif: I'm currently using the Flux S, but I did use the Apollo and the Xion S in the past.
Microbeau machines are definitely the best out there and as the new ones come out they are constantly getting better and better.
I love the ergonomics and weight of the Apollo but there is no beating the Flux S because it is wireless, albeit a bit larger and heavier, which works well for me as I prefer a large grip.
Q: Did you come across any surprises even after years of owning your own business?
Seif: Yes plenty of surprises! I was surprised to be awarded "Best International Technician" in 2018 at my very first international conference. I was surprised to see both great camaraderie within the industry, even if there are a few people who get into high school-type drama.
I was surprised to be called the "SMP repair guy" because of the number of repair cases that ended up in my shop and to end up developing our own tattoo removal product so we can correct botched work.
And being that I am such an introvert, it still surprises me how much I actually enjoy teaching and am actually good at it. 
Q: Is there a difference between whether men or women have more success in SMP? If yes, do men or women?
Seif: Honestly, I feel that men tend be more successful in SMP, mainly because it is a very male-oriented service, but also because many females in the business tend to add SMP as an extension to their other services, such as PMU. Men tend to concentrate on SMP full time.
Also, it certainly helps when you have SMP on your scalp.
Q: What's the women-to-men ratio for clients?
Seif: I would say between 1 and 2 out of 10, so around 15%
Q: Are you happy? What would you change about the field or your work?
Seif: I am extremely happy with my career and this craft.
There could stand to be less catfighting and badmouthing between some artists, especially the newer ones.
I would like there to be stricter guidelines (or at least an unspoken, but respected rule) that new artists should not train until they have completed at least 500 treatments, so as to stop producing below-standard new artists who produce botched work.
Follow Seif's work on his Instagram.