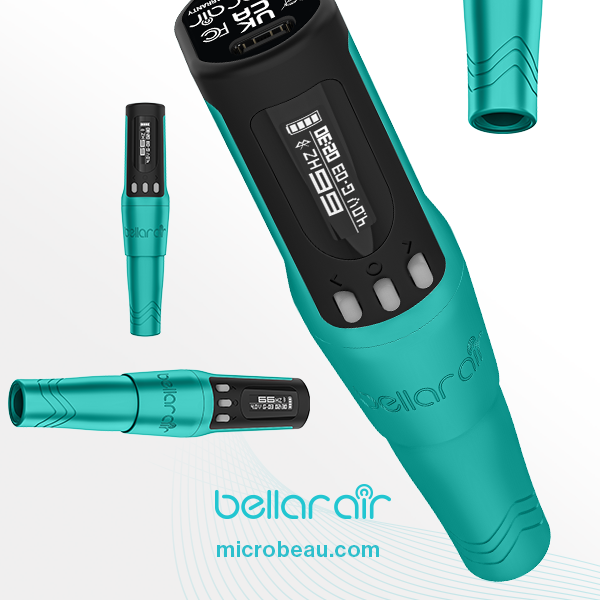 Microbeau is proud to introduce our newest and most innovative machine yet, the Bellar Air.  
Bellar Air is our breakthrough wireless innovation. An all-encompassing PMU machine, suitable for the artist craving reliability, luxury, and style, packed into a machine with endless capabilities. 
Bellar Air is engineered, manufactured, and carefully hand assembled in the USA. Microbeau is committed to designing innovative, quality machines that pass rigorous testing and certification–providing the industry with reliable products by artists for artists. 
LUXURY MADE SMART 
Featuring a new digital display with options to manage speed, timing, voltage, and eGive parameters, this device puts the artist in maximum control. With the NEW built-in needle sensing feature, the Bellar Air recognizes and responds to the skin, delivering consistent results.  
Bellar Air's responsive eGive system, NEW lower running voltage (4V/66Hz), and choice of 2.1 mm and 3.0 mm stroke options empower artists to take on a variety of techniques on different skin textures. Its Bluetooth connectivity provides artists with the ability to connect to the wireless Killswitch foot switch and the Darklab app. 
                                         New Innovative Features
Digital Display 
Bellar Air features a new built- in digital display system features built-in menu options allowing artists to manage exclusive Bellar Air features such as: 
New responsive silicone buttons which allow artists to easily adjust and manage settings.

 

Digital Display gives artists the option to speed in Volts or Hertz.

 

Artists can adjust their screen orientation for left or right-handed functionality.

 

Options to turn On or Off needle sensing feature.

 

Accessibility to start the built-in timer to track sessions.

 
Completely shut down the device.

 

Engage the improved eGive system.
Needle Sensing 
With the NEW built-in needle sensing feature, artists can ensure the machine recognizes and responds to the eGive system throughout various needle configurations and membrane resistances.  Needle sensing will automatically turn off the device when a cartridge is detached to help prevent accidental stinging when re-inserting a new cartridge.
eGive 
An improved eGive system provides artists with three levels of needle recoil ranging from hard, to medium, to soft; all accessible through the digital display interface of the device. This system allows the artist to select their desired level of eGive depending on procedure and technique being performed. 
The soft setting will allow artists to stipple and achieve flawless powdered strokes.

 

The medium setting's versatility can be used to achieve a variety of procedures. 

 
The hard setting will allow for maximum pigment implantation during PMU procedures. 
2.1 mm & 3.0 mm Stroke Options  
Bellar Air will be offered in two fixed stroke options of 2.1mm, and 3.0mm empowering artists to take on a variety of techniques on different skin textures. 
Utilizing the smaller 2.1 mm stroke, artists can perfect fine linework procedures and achieve seamless detailed precision. 

 

The 3.0 mm stroke allows the artists to tackle a vast variety of PMU procedures using that one stroke length.

 
Low Voltage 
The NEW lower running voltage ranging from 4V (66Hz) to 10V (166Hz) allows artists to reduce skin trauma through controlled power while still achieving maximum pigment saturation and color retention for optimal healed results. 
Bluetooth Connectivity 
With convenient Bluetooth connectivity, artists have accessibility to connect with the wireless Killswitch footswitch and the Darklab app. Artists can control their machine's power through their footswitch without having to touch their machine, have control over features on the machine through the app, and update the machine's software when made available through the Darklab app. 
Luxury Travel Case 
The Bellar Air comes in a luxury carrying case and includes a DC Power Adapter, an alternate method of powering the machine by method of a conventional power supply.  
This luxury carrying case protects the device and allows artists to keep their machine and accessories in one convenient location. 
Bellar Air's travel case includes:  
Bellar Air Body 

 

DC Adaptor  

 
Detachable Wireless Battery Pack  

 

Killswitch (optional) 

 

USB-C charging cable and plug

 
DC Power Adapter 
DC Power Adapter. An alternative method of powering the machine utilizing a conventional and reliable power supply. With this included option, artists never have to worry about powering their machine if their wireless battery packs aren't charged or if they need to quickly switch to an alternative power option. 
Bellar Air is perfectly tailored to suit artists of every skill level. This machine combines elegance and state of the art technology, in a stylish, high-quality device that can tackle any PMU procedure, regardless of technique preference for beautiful, healed results. Whether you're a beginner or experienced PMU artist, Bellar Air is the machine for you.