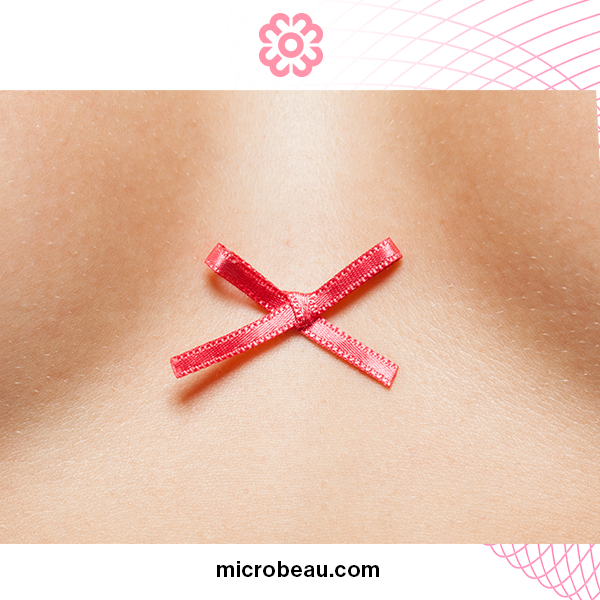 Microbeau understands and empathizes with the millions of women around the world who are diagnosed daily with breast cancer. The journey is a long and difficult one that leaves many scars. Not only physically, but emotionally and mentally as well. Microbeau stands in solidarity with those who have endured this disease, those who are still battling, and those who have family or friends who have been diagnosed with breast cancer.  
In most cases when a woman is diagnosed with breast cancer, she undergoes surgery to remove the cancerous tumors and then may undergo chemo or radiation treatment to clear any cancerous cell that may have spread. This entire process affects the aesthetic and health of the breast and often lead for women to feel dissatisfied with the way their breast is left as a result of treatment. This leaves women with the option of undergoing surgical reconstruction of the breast.  
While surgical reconstruction can give women the illusion of having breasts when implants are added, the areola is not part of the reconstructive process in most cases. For these cases where women want to look and feel comfortable and confident with their breasts, PMU artists can use their artistry to recreate the appearance of the natural breast areola. 
After the surgical process is complete, women are left with a plain breast mound, adorned with a surgically created areola. However, these areolas are simply an outline and feature no color index as a natural breast areola/nipple would. 
PMU artist who specializes in areola reconstruction will utilize skin tones as a guide for color selection and tailored measurements to ensure the perfect size and symmetry of the areolas is being performed for each client.  Artists will use a specialized technique of shading and highlighting which in turn creates an incredibly realistic 3-D areola.  
3-Dimensional shading will give the illusion of a physical nipple that would naturally protrude from the skin, which will often rid clients of the necessity of undergoing additional surgery to create the nipple bud. 
Being able to provide women who have endured trauma and pain with a sense of feeling beautiful and confident is a beautiful and gratifying gift that many PMU artists are blessed with sharing. Many of these artists will even donate these reconstructive services. 
At Microbeau, we provide artists with high-quality products and machines that will ensure a smooth permanent makeup tattooing process so that clients will leave with a smile on their face and flawless healed results.  
Microbeau's Recommended Machines for Areola Reconstruction:  
Microbeau's Recommended Needles for Areola Reconstruction:  
Vertix Pico: 5 Sloped, 9 Sloped, 9 Magnum 
Microbeau's Recommended Pigments for Areola Reconstruction: