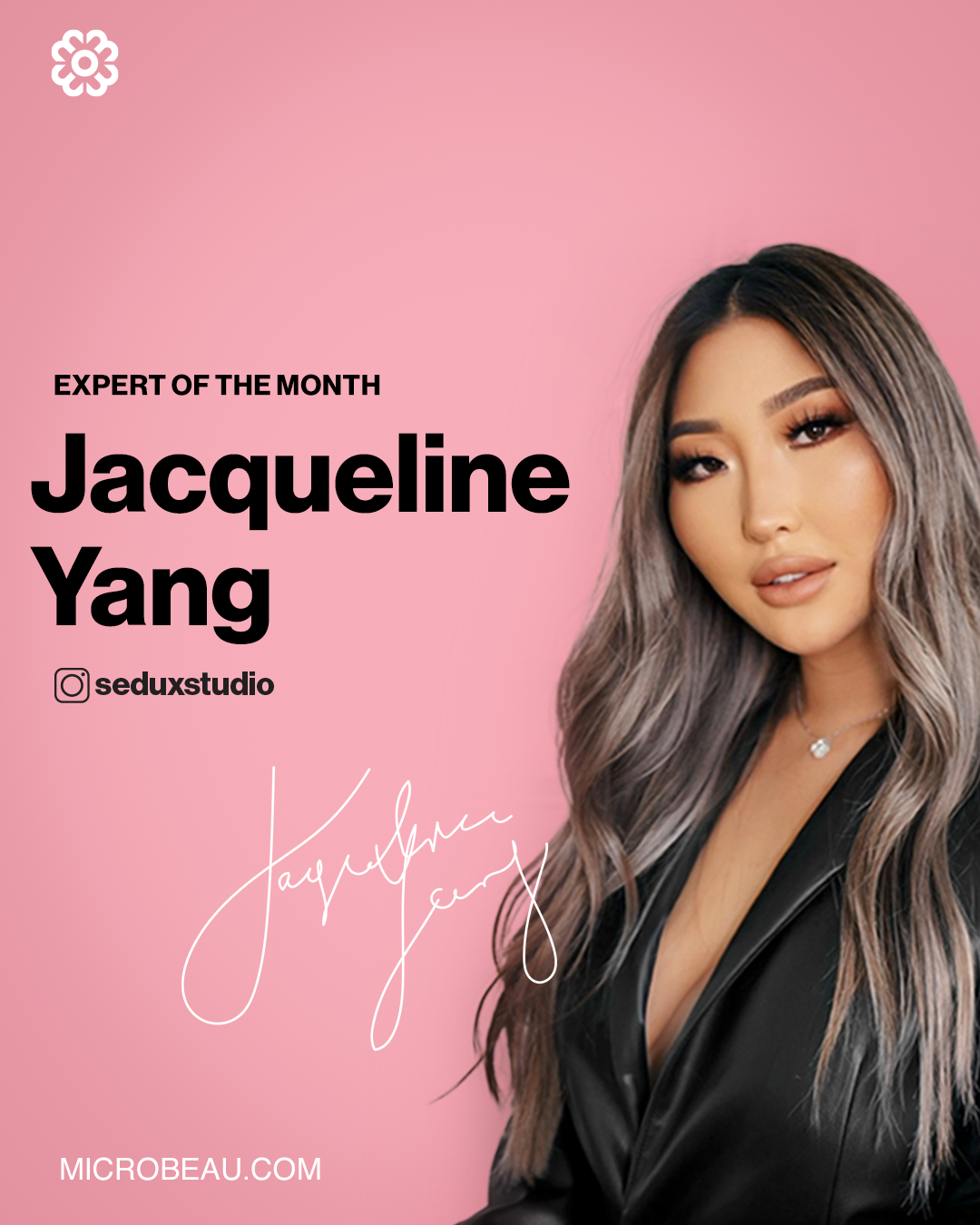 Microbeau is happy to introduce our September Expert of the Month, Jacqueline Yang, founder of Sedux PMU studio. Jacqueline is an Orange County, California-based PMU artist and trainer who specializes in Ombre Powder Eyebrows and Corrections. With a background in art, design and tech, she decided to combine all her skills and venture out to create her own successful PMU business. She is best known for highlighting her clients' natural beauty, her phenomenal correction work, as well as educating her audience about the business development side of the PMU industry. Her goal is to inspire, educate and pave the way for younger artists into this field by finding their passion for enhancing natural beauty and helping others feel beautiful. 
Jacqueline is also the founder of Sedux Pro, her own product line, and aspires to continue to create more unique products for the industry through her own experience, trials and errors. With her vast knowledge and experience in PMU she has successfully trained over 500 students.  
Microbeau took the time to get to know Jaqueline, and this is what she had to say about her experience navigating the PMU industry. 
What are your favorite PMU procedures to perform? 
As an artist who really strives to master and perfect their craft, I would have to say I started with Ombre Powder Eyebrows and that'll always be my favorite. However, I also love enhancing lips!
 
Which machine works best for which procedures? 
My current favorite, the new Flux Mini, is my go-to for both brow and lip procedures. I love the wide range of voltages as well as the ability to take on universal cartridges, making it suitable for almost any procedure for me. 
What are your five essential tips for a PMU artist?    
Never stop learning and challenging yourself. As technology and techniques advance, there will always be new ways to produce and showcase your results. No matter how much we learn over the course of our life, there are still countless things that we will never know. 
Always take your time and follow through. I love the saying "work slow to finish fast" because in this field, working too fast is never a good trait to get used to. 
Provide the best customer service experience. Instead of always focusing on trying to get new clientele, don't forget your current clientele can also bring you a lot of business through them raving about their positive experience with you. 
Never stop practicing. You can only find out the best way to reach a desired result or a correct solution by experiencing it yourself. You will get more precise and build an eye for things as you go through these trial and errors. Through practice, you can build your muscle memory, gain comfortability with the application, the weight of your machine, and holding tools for extended amounts of time.  
Network, network, network! Meeting like-minded people through events, conferences and social gatherings in this industry will elevate your interest and passion. I'm so proud to be a part of such a supportive, loving community which is the biggest plus to my "job!" 
How to elevate the experience for a client?    
Educate and guide your client throughout the whole process. Be proactive and reach out to your client from time to time. I feel like creating a personable connection with your client truly makes it a unique experience. When you build trust and connection with your clients, the process will always be smooth and transparent on both ends. 
What are some best practices during procedures, and what to avoid? 
My biggest advice is being comfortable with moving your client around, having them sit back up and down, and remapping consistently, even throughout the procedure, to see the role gravity can play on facial and bone structure. 
I would avoid working too quickly as well as not getting a chance to let your work oxidize before moving forward onto the next step.      
Could you share more details about your PMU educational master classes? 
In my Masterclasses, my goal is to create an immersive learning experience with a crowd of people who share the same passion as you. I love my classes to be interactive, and have my students leave feeling re-energized and inspired. The biggest value is the continued support after the class, where I host discussions and live streams on various topics monthly. More information via our website.  
How did we come to be the best in the industry?    
Investing in yourself, your education and all your tools needed to succeed. Be your authentic self and you will discover that one unique, valuable trait about your business that sets you apart from others. 
Could you share background information on you as an artist and how you started off in the industry? 
I always aspired to be an artist since I was young and took art classes all the way up until the end of high school. With a background in art and design, I developed an eye for symmetry and precision which led me to working various corporate roles such as a graphic and UX designer. I felt limited in the corporate world and wanted to be the first in my family to create their own business. I saw the art of Ombre Powder Eyebrows online one day and through hope and inspiration, I took my first course which led to me now being over 20x's certified by some of the world's best artists in this industry. It took a lot of dedication, the willingness to improve and wearing multiple hats in one position, but I truly think there's a huge advantage for visibility and growth for new artists now!  
Shop Jaqueline's Favorite PMU Device: