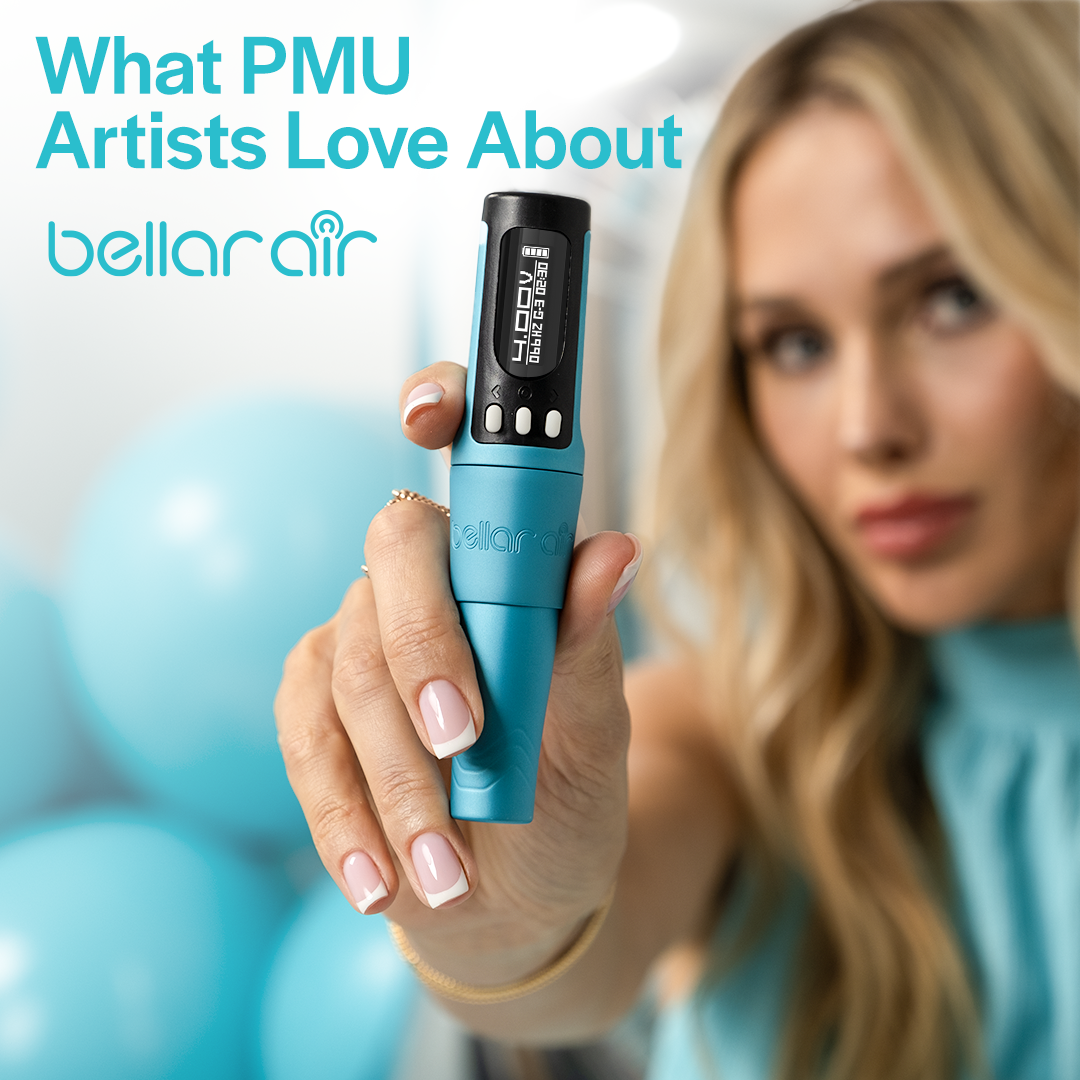 Bellar Air has completely changed the way artists work, but don't take it from us! We reached out to PMU artists to share their thoughts about our one-of-a-kind machine. 
Microbeau values the experience artists have with Microbeau machines and strives to provide high quality, innovative technology for the PMU community.
What Artists Are Saying... 
"I really recommend Bellar Air for PMU artists. This machine is a luxury-style PMU device. It is slim in design and powerful in performance at same time. I love this pen-style machine with compact design and comfortable grip. The machine is lightweight, effortless and has no vibration. It is wireless, so you can focus on the details during your permanent makeup procedures. Another benefit is that the innovative technology and eGive gives you freedom and maximum control in your work! You can adjust the different settings for all permanent makeup techniques and skin textures depending on your preference. And with the Killswitch option you can save time and provide procedures faster. You can perform all PMU procedures for eyebrows, eyes and lips with this machine. I am absolutely fascinated by Bellar Air! Thank Microbeau for this incredible technology!" - @marylito 
I use Bellar Air for all procedures: brows, eyes and lips. It's a soft and yet very powerful machine. It's comfortable, ergonomic and quiet. You can achieve the perfect results in any part of the face. I highly recommend it! - @carmela.davilaa (quote was translated from Spanish) 
I got a hold of the new Bellar Air and wow my expectations have been blown out of the water with this one! From the moment I held the machine I felt the difference. This machine is so light and effortless. It allows me to move with zero effort and the finger to machine connection is just there. The technology behind this machine is incredible, it allows me to check how long my tattooing process was, checks if my needle is working properly, and the digital screen is so helpful! I cannot wait to continue creating magic with my new go to machine! - @dazzlingbeautybarmia 
I use it for all procedures, but preferably machine hair strokes and lips because of the possibility of precision, low vibration, and comfortable grip. The machine's shape feels like a pen, so it is comfortable to focus on the details. Also, it's wireless, long-lasting battery makes the process easier; no wire helps keep the machine at different angles without stopping because the wire is in the way. I recommend students get this machine for the same reasons. They can focus on the procedure because they won't need to stress about wires or loud sounds of machines increase that would increase their hand pressure. Students will feel more confident while working with Bellar Air. - @heavenbergbeauty 
The Bellar Air is the crème de la crème of permanent make up equipment. I love how lightweight, but powerful it is. My favorite features have to be the LCD screen and being able to use as low a voltage as 4.0 V. Prior to this, wireless machines were only able to go down to 5.0. This machine is my favorite for all permanent make up procedures, but especially for eyeliner. - @beautybynicksz 
Gone are the days of endless rolling over your RCA cord with your stool, or getting tangled up in all the cords. Bellar Air allows truly FREE movement! With the Killswitch you can work worry free and efficiently. The 3mm stroke length is the closest to a "universal" machine as it gets! I absolutely love the easy to use lightweight design. It charges fast and gives you really great power. In most wireless devices power output could be in an issue! Not with Bellar Air! It lasts all day and doesn't skip a beat. - @bluerosebeautyandbrow 
I absolutely LOVE the versatility of the Bellar Air. It's petite, super well weighted, with minimal vibration.I love the adjustable E-Give too! It's quickly becoming my most grabbed for wireless machine. - @shaydanielle.pmu 
I am absolutely fascinated by the new Bellar Air. One of my favorite features of the machine is how lightweight it is and how it allows me to create beautiful strokes without having to think about adding extra pressure. The stroke of this machine is perfect for creating natural effortless results. The feature I'm most obsessed with is the needle detection, this is such a key component for all artists. The work I have been producing with it speaks for itself! - @angeltouchstudio 
I use Bellar Air 3.0mm stroke for all my Nano Stroke Brow procedures, as well as with Combo Brows because I like how the machine can adjust to a very low voltage. The settings can be adjusted on the machine's eGive for a soft hit. It has no vibration, allowing me to create beautiful, thin lines very easily. I would recommend the Bellar Air to all artists who are looking for a good machine for Nano Stroke Brows. The Bellar Air's wireless capabilities are optimal, and it can even be used with a power supply via its DC Module if needed. - @moshastudio 
About Bellar Air 
Bellar Air is Microbeau's breakthrough wireless innovation. An all-encompassing PMU machine, suitable for the artist craving reliability, luxury, and style, all in a machine with endless capabilities. 
Featuring a new digital display with options to manage speed, timing, voltage, and eGive parameters, this device puts the artist in maximum control. With the NEW built-in needle sensing feature, the Bellar Air recognizes and responds to the skin, delivering consistent results. Bellar Air's responsive eGive system, NEW lower running voltage (4V/66Hz), and choice of 2.1 mm and 3.0 mm stroke options empower artists to take on a variety of techniques on different skin textures. 
Get your hands on a Bellar Air here! 
Learn all about the Bellar Air and its features in our blog post.