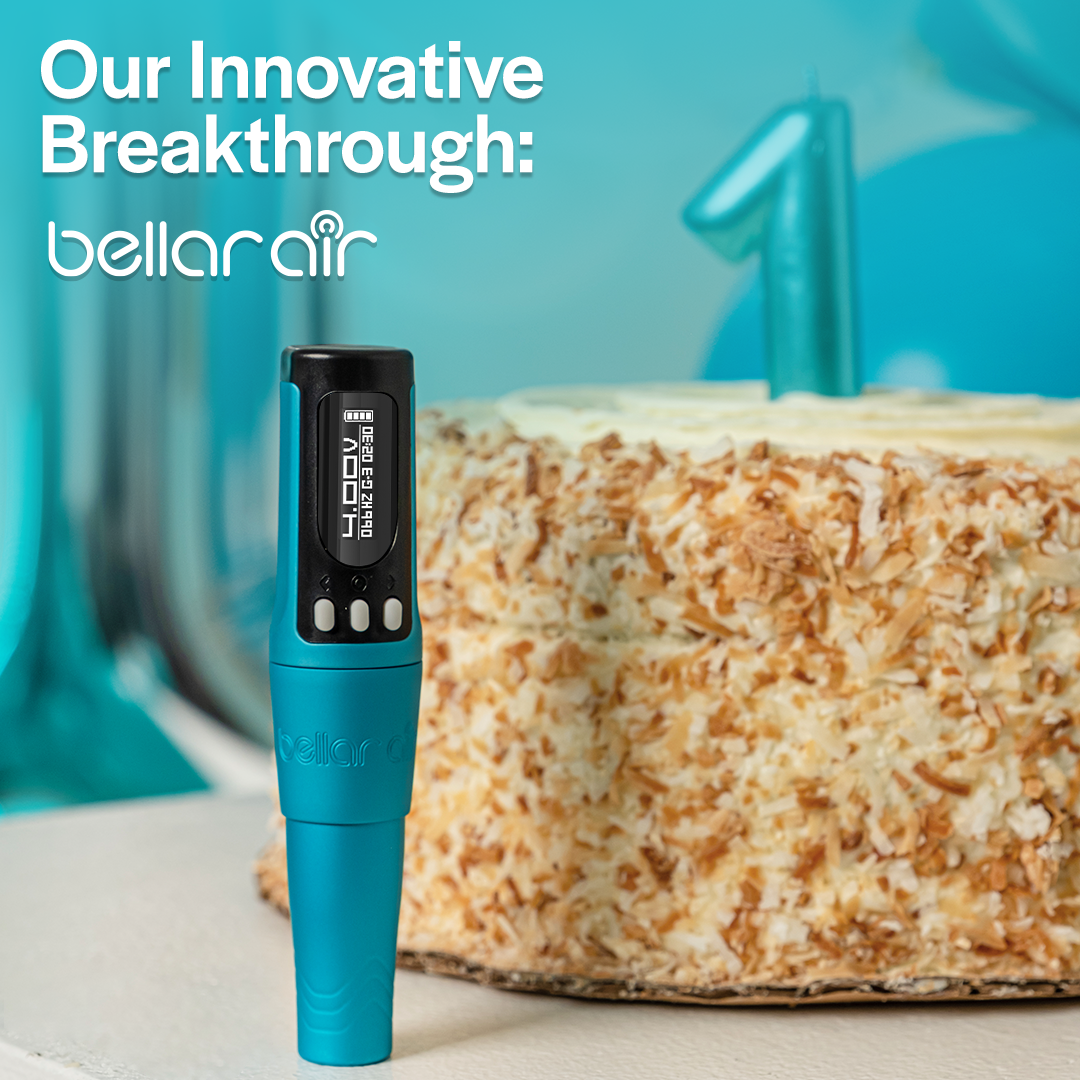 PMU artists need the freedom to move, create and inspire. Bellar Air was our breakthrough. Wireless, customizable and low vibration, this all-in-one device empowers artists to focus on what's important: their results.  
In honor of Bellar Air's first birthday, we're taking a closer look at what makes this revolutionary machine so unique, from its history to its top-rated features.
The Evolution of Bellar 
It all began in 2018. PMU artists were looking for a slimmer, pen-style machine that was lightweight, but still powerful.  
And so, Bellar was born. It was Microbeau's first innovative breakthrough designed with the PMU artist in mind. Featuring a 2.1 mm stroke, this slim profile design fit perfectly in hand, reducing arm fatigue, a common complaint among technicians.  
Bellar quickly led the way for two of our bestsellers: Bellar V2 and birthday girl, Bellar Air. 
The Difference Between Bellar V2 & Bellar Air
| | | |
| --- | --- | --- |
|   | | |
| Experience Level  | Beginner (0-1 years, less than 100 procedures)  | Intermediate (1-3 years, 100-300 procedures)  |
| Stroke Length  | 2.7 mm  | Fixed 2.1 mm and 3.0 mm  |
| Grip Size  | 26.5 - 16 mm tapered  | 26.5 - 16 mm tapered  |
| Give  | No Adjustment  | eGive  |
| Connectivity   | Wired, Mini DC Cord  | Wireless or Wired, Mini DC Cord  |
| Voltage Range  | 4V - 9.5V  | 4V - 10V  |
| Weight  | 2.86 oz (81 g)  | 3.86 oz (109.6 g)  |
| Bluetooth Enabled  | ___  | Yes, when paired with Darklab App  |
| Compatible Accessories  | Airbolt Mini  | Killswitch   |
Bellar Air: Top Features 
Wireless 
Although still very common in PMU, using wired machines tends to add extra mental and physical weight to an artist. Rather than simply paying attention to their work, artists also need to focus on controlling their machine. 
With the Bellar Air, PMU artists are in complete control. Say goodbye to shaking and hand fatigue! Its wireless design offers the freedom to move around, so artists can only focus on creating precise, crisp lines and stunning results. 
eGive Control
The eGive setting affects how hard or soft the needle hits the skin. To navigate the eGive menu, choose from four different eGive settings: 0 (No give, direct drive), 1 (Low give/Hard hit), 2 (Medium give), or 3 (High give/Soft hit). 
0 (No Give)

: Experience a direct drive with no recoil.

 

1 (Low Give/Hard Hit)

: The lower the level of eGive, the harder the needle ihits the skin.

 

2 (Median Give)

: The perfect balance between hard and soft hit.

 
3 (High Give/Soft Hit)

: The higher the level of eGive, the softer the needle ihits the skin.

 
Footswitch Compatibility
Connect your machine to a footswitch (we recommend the Killswitch!) by selecting 'ON' in the footswitch menu. Simply tap the Killswitch three times to establish a connection. Once connected, you can control your machine with a single foot tap. 
Timer
Keep track of your procedure time by activating the timer in the menu. The timer displays both hours and minutes, ensuring precision in your work.
Volts and Hertz
Customize your machine's display to your preference by choosing either 'Volts' or 'Hertz' as the priority reading. The selected option will appear prominently on the screen, with the alternate option displayed in the bottom left corner. 
Needle Detection
Enhance your eGive experience with Needle Detect. When enabled, this feature ensures consistent give regardless of the needle brand or configuration you use. The machine detects the needle's resistance and adjusts its rhythm to provide a consistent give level ranging from 1 to 3.
Screen Orientation Customization
Personalize your machine's screen orientation based on whether you're left- or right-handed. Simply select 'RIGHT' or 'LEFT' in the menu, and the screen will flip accordingly. Enjoy the flexibility of rotating your screen to suit your needs.
Hard Power Off
Preserve battery life and prepare for travel with the Hard Power Off feature. This option allows you to completely shut down the machine by disconnecting the battery from the main circuitry. To power on the machine after a Hard Power Off, simply connect it to the charger.