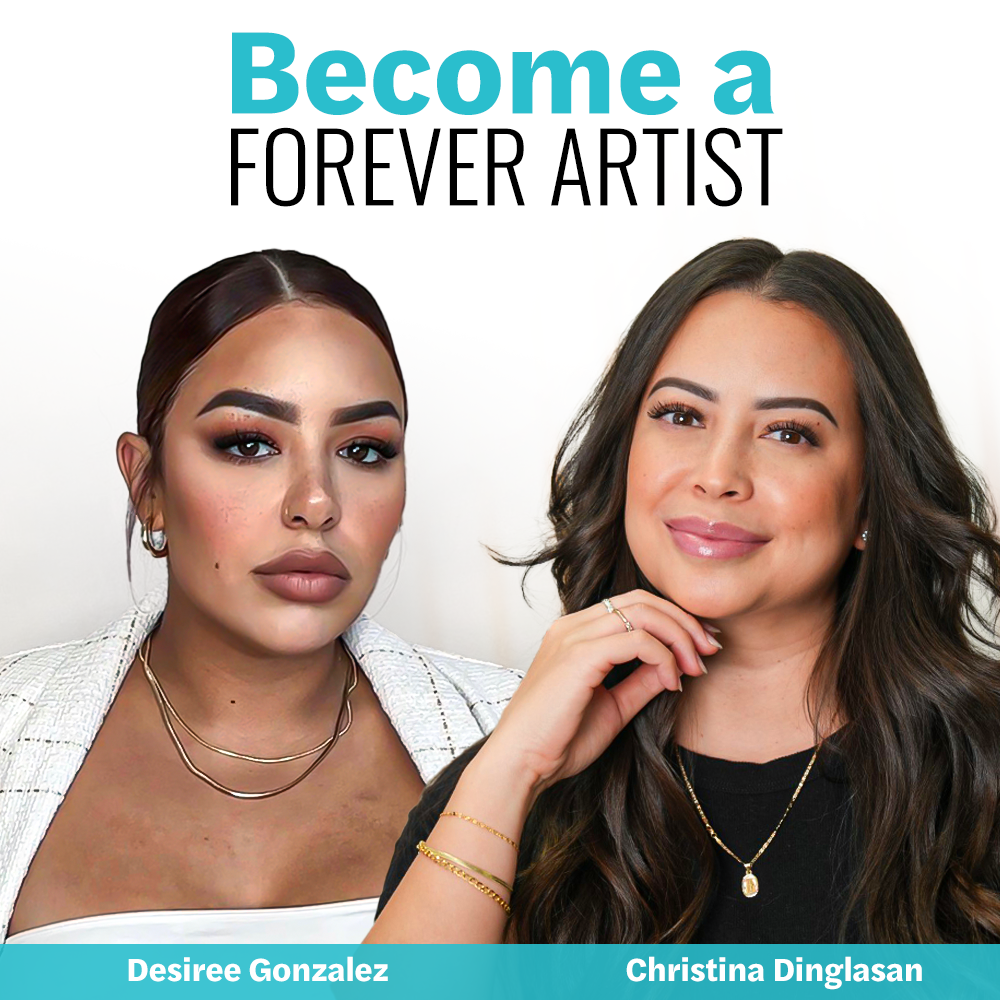 As we continue to shine a light on the importance of education, we're featuring two more PMU masters who take their craft very seriously and are helping other artists do the same.  
Desiree Gonzalez is the owner of Slayy Beauty and Academy based in Miami. She offers a wide range of services including ombre power brows, color correction, cover ups and more. She also provides in-depth online and in-person trainings to PMU artists of all levels. 
Christina Dinglasan is the owner of Brows Made Studio and Academy, a leading destination for cosmetic tattooing in San Diego. She is combining her passion for providing luxury PMU services with her love for elevating the skills of other artists.  
Desiree Gonzalez, Founder of Slayy Beauty Academy  
Use code: MICROBEAU15 for 15% OFF her brand-new course Sip N Shade Mastering Brow Shading! 
https://slayybeauty.co/products/sip-n-shade-mastering-brow-shading 
Check out her book: https://slayybeauty.co/collections/webinar-ebooks/products/the-pigment-bible-vol-1 
1. Who would you consider an intermediate artist and what is some advice you can offer to them? 
This is a two-parter because some people have a natural gift. They come from a makeup background or they're artists, and the skill comes easier to them. Although they haven't put in the time and they don't have a ton of clientele, they can call themselves intermediate because their work looks intermediate. However, I believe that a true intermediate artist has done the time and has worked on at least 100 clients. One that knows how to problem solve because they've experimented with pigments, worked on different skins, seen their work healed and have done touch ups on return clients. 
My advice to artists is to put in the time. As a beginner, you're trying to master the technique, then as an intermediate artist, you start exploring and diving deeper into all aspects of permanent makeup. One of them being color theory. You need to understand how pigments heal on the skin, some are warmer, some are cooler. That's something only time and experience will tell.  
2. What motivated you to start offering online courses, and what can students expect to gain from them? 
When I started, the industry wasn't how it is right now, where everybody's teaching everybody. Instagram was not a happy place where you shared information. There was tons of gatekeeping so if you wanted to know what pigments were used on someone's page, you had to take their class. People weren't getting the right training, so they were butchering people's faces. For a while, I was called the brow doctor because I was taking cover ups that other artists didn't want. I had to do a lot of learning through YouTube and trial and error. In my initial training, I wasn't taught how to do a brow outline correctly and wipe in increments so I would constantly lose my outline and it would take me hours to do a shape. That propelled me to get good fast, so that other artists don't have to go through the same struggle. I've heard stories from artists that used the last of their taxes or rent money on a class. People are literally giving it their all so why wouldn't I, as teacher, give it my all? 
I do take pride in knowing that you can be a complete beginner and come to my class and you're going to succeed. I feel like a lot of trainers tailored their classes to intermediate or advanced level forgetting that not everybody has all those baby steps. I give training manuals before and the day of the class, so my students have a guide. I believe that good training sets you up for success, and my mindset is that if my students are winning, I'm winning. 
3. How many classes do you recommend students take before they begin practicing PMU on their own? 
If you take one good in-person training, you should begin practicing immediately. I don't think an online training would be enough to start practicing on a person, unless you are naturally gifted and a master tells you. Take one really good in-person class. I normally tell my students that once they've done three days of training in person with a model supervised, the next 7-9 days after the training, they should be doing homework, practicing half-an-hour to an hour every day. They should already have a model scheduled after that period, so they can work on their own. At the end of the day, you have to feel it out. If you took a training and you have that mentorship, reach out to your mentors. Say "Hey, these are the skins that I've been doing. What do you think? Am I ready for a model yet?"  
Christina Dinglasan, Founder of Brows Made PMU Institute 
Use code: MICROBEAU for 15% OFF all online courses! 
https://browsmade.teachable.com/ 
1. Who would you consider an advanced artist and what is some advice you can offer to them? 
An advanced PMU artist is an individual who has honed their skills and expertise in the art of cosmetic tattoos to a highly proficient and specialized level. They have dedicated years of practice and refinement to their craft. You will notice when an artist possesses advanced qualities because they combine technical excellence, artistic vision, professionalism, and a deep passion for creating meaningful experiences for their clients. Advanced artists will also find ways to innovate their own processes with critical thinking and understanding their techniques on a scientific level.  
I encourage all artists to never stop learning. Even as an advanced artist, the beauty industry is constantly evolving. Stay up to date with the latest techniques, trends, and technologies by attending workshops, seminars, and continuing education programs. Be open to constructive criticism from clients, peers, and mentors. Lastly, take care of yourself. The beauty industry can be demanding. Maintain a healthy work-life balance, practice stress-relief techniques, and pursue hobbies outside of your profession. 
2. How has education played a pivotal role in your professional development as a PMU expert?
Education has provided me with the fundamental understanding of the techniques, tools, pigments, skin anatomy, and safety protocols necessary for performing permanent makeup procedures effectively and safely. A strong educational foundation has also helped me strengthen my artistic eye and aesthetic sense. Throughout my education, I have been able to connect with other likeminded professionals, instructors, peers, and mentors, fostering a supportive network for learning, sharing experiences, and seeking guidance. I have felt more confident in myself as an artist. I'm owning the value and standard I hold myself to and increasing my worth. I know that I show up for my clients and improve myself for them. To help them achieve their beauty goals and feel more confident in themselves. 
3. What motivated you to start offering online courses, and what can students expect to gain from them? 
The first online course I released was during the pandemic when the whole industry scaled back on in-person contact. I wanted to be able to provide an avenue for individuals to access my education while keeping their safety top priority. Although in-person education offers the most value, online learning has so many benefits as well. Benefits include going at your own pace, starting PMU as a side hustle while still performing your main hustle, play back capabilities, reference for when questions arise, practice resource, just to name a few.  
Another motivating factor is I wanted to provide my in-person students support before and after their in-person training. My students begin their training with a 10-day online curriculum to help prepare them for the topics they will be learning. They will also have access to my online academy for an entire year following the in-person training. I am so passionate about this because support after training is going to give an artist more confidence when they're navigating the complexities and preparing themselves to become service providers. There is absolutely no gatekeeping as we deliver the newest most innovative techniques as well as traditional proven concepts.