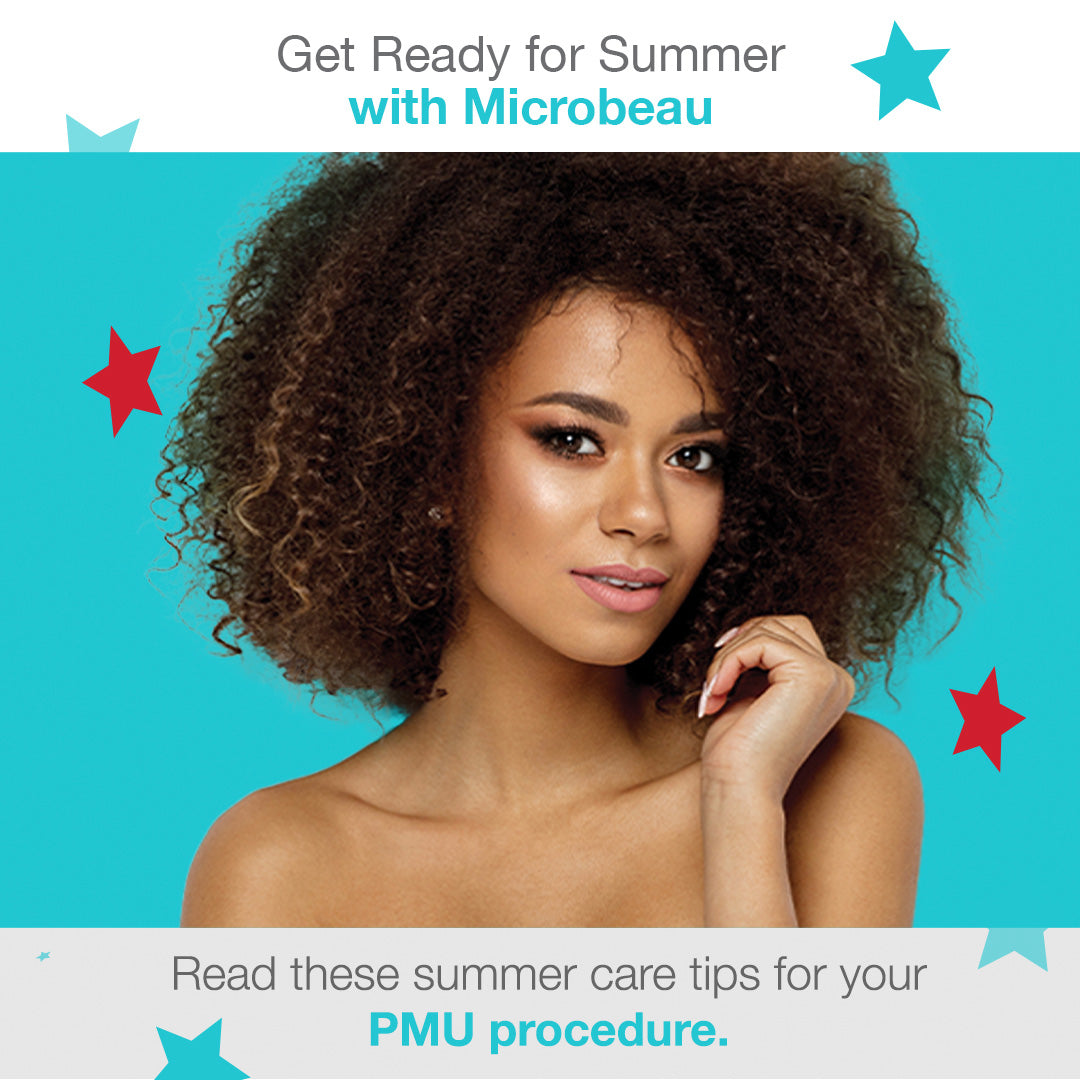 Microbeau is getting ready for the summer, and we hope you are too! With this in mind, we want to help all our beauty gurus achieve that natural summer glow without worrying about your makeup melting off.
Protecting your PMU Procedure: 
While the summer is a great time to enjoy some fun in the sun, there are some things to keep in mind when soaking up the rays. Although SPF is highly recommended to be used regularly, it is even more suggested for those who have pigmented skin.
High levels of sun exposure, swimming, and sun protection products can put a damper on your healing process and negatively affect the absorption of color pigmentation and retention in the skin.
Microbeau recommends that you try and plan out your vacation accordingly after or before a PMU procedure. It is suggested that you avoid getting a PMU procedure done two to three weeks before you decide to spend long periods in the sun.
                   The Maintenance Guide for a Flawless PMU Summer
SPF, SPF, SPF!
It is crucial to remember that after a PMU procedure, you should apply SPF with a protection level of at least 50 on pigmented areas.

Ensure that the SPF you use is water-resistant for maximum protection when you sweat or swim. 

Try to use protective gear to block out some of your exposure to the sun
*
P.S. A great way to do this would be some stylish sunglasses or a fun wide-brimmed hat.
Swimming can be a great way to pass the time in the summer heat, but unfortunately can be detrimental to your PMU procedure if the appropriate caution is not taken.
 Swimming Aftercare
Make it a habit to thoroughly rinse off with clear water after swimming to avoid possible bleaching effects that may occur from chlorine lingering on the skin.

Swimming can cause the skin to dry up and lead to scabbing, tightness, and soreness. If you are experiencing any of these symptoms after taking a dip, it's time to re-up on your moisturizer (preferably one with SPF!)

Stay as dry as possible. Although it may be difficult to stay dry in the sweltering heat, you must remember that water remaining on the skin causes increased U.V. ray absorption on the skin, which can, in turn, cause undesired effects on your PMU procedure.
Sunburn Prevention
While we understand that it may be easy to get caught up having fun in the sun, regardless of whether you have PMU procedures or not, it is essential to try and prevent getting sunburnt.

Sunburns can seriously backtrack your healing experience and cause unwanted hyperpigmentation on the skin.

It is recommended to take regular breaks from direct sun exposure.
Microbeau's Summer Must-Haves:
The New and Improved generation of Bellar, the Bellar V2.
https://www.evenflocolours.com
https://www.microbeau.com/products/flux-mini-champagne-gold