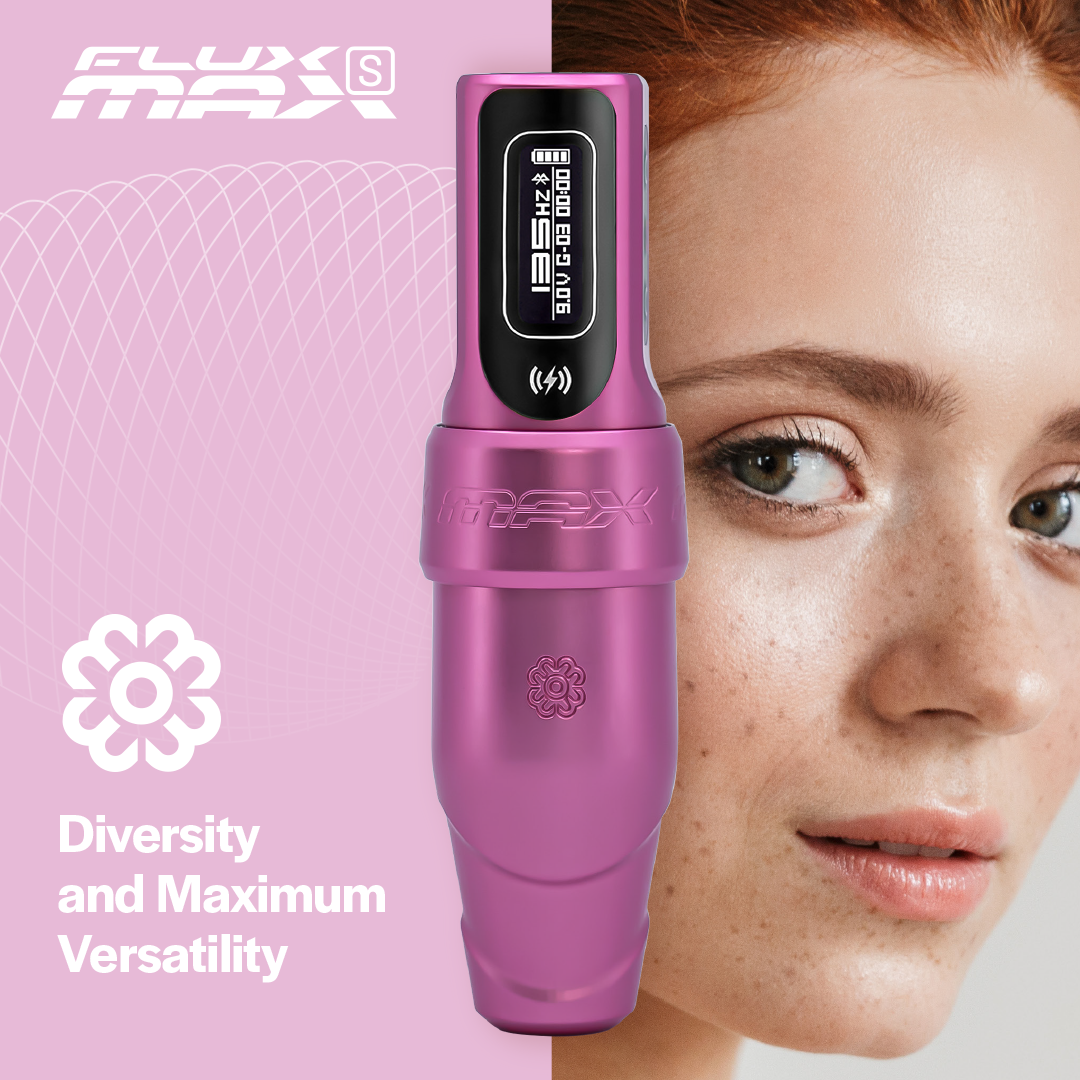 Introducing Flux S Max
The new Flux S Max brings diversity and maximum versatility to the everyday artist with its new PowerBolt II battery pack, improved grip and eGive, and longer stroke option. The Flux S Max features a new, digital display, built-in menu with the PowerBolt II battery pack allowing for ultimate control of all machine features and settings. The PowerBolt II allows the artist to easily navigate menu options, engage and adjust eGive, read battery life, and personalize machine displays by choosing Hertz or volts and 0.1 or 0.5 increments of adjustment. The Flux S Max features new, state-of-the-art technology that learns how you like to work, from the type of ink,  to the tip/needle, and the level of pressure you apply.  
 Key Features
PowerBolt II digital screen provides a more intuitive and user-friendly experience

Needle Sensing

Improved, responsive and adjustable eGive

Redesigned, ergonomic grip and balanced for functional comfort

Luxury Travel Case Included

Built-In Time Tracker

Stroke Length: 2.5 mm, 3.2 mm, 4.5 mm
Weight: 5.89 ounces (166.9 grams)

Battery Life: Average 5-6 hours, up to 10 hours. Battery life subject to voltage, stroke, needle choice, and skin type.

Connectivity: Wireless & Bluetooth

Voltage Range: 4 – 12 Volts (66 - 199 Hertz)

Grip: 24 mm – 34 mm

Compatibility: Bluetooth, Killswitch, Standard Universal Membrane Cartridges

Made in the USA               
Flux S Max, Rouge: The 2.5mm stroke is perfect for color packing, shading and curating clean, crisp lines during lip procedures.
Flux S Max, Midnight: A 3.2mm hybrid stroke provides artists with the balanced power to create clear pixels with ease and is perfect for shading, line-work, and blending during PMU procedures.
Flux S Max, Oudwood: A 4.5mm stroke allows artists to create powerful strokes with each and every pass, ideal for brow, SMP, and body tattooing procedures.
PowerBolt II Key Features      
Our first, digital built-in menu to select settings

State-of-the-art motherboard that learns how you like to work, "senses" and adapts in real-time

Native Killswitch connectivity and improved range

Responsive eGive settings (0-3)

Voltage and Hertz readout (adjust by 0.1V or 0.5V)

Easily read battery life and built-in session timer

Left- and right-hand screen orientation

Battery firmware updates via the Darklab app

Battery life: An average of 5-6 hours of battery life, dependent on needle resistance, machine speed (volt/hertz), and stroke. Full charge in 2 hours when used with the included USB-C charging cable.  
Checkout the Flux S Max  Now! 
Here's a quick look at SMP artist, Matt Iulo using the Flux S Max, Midnight.