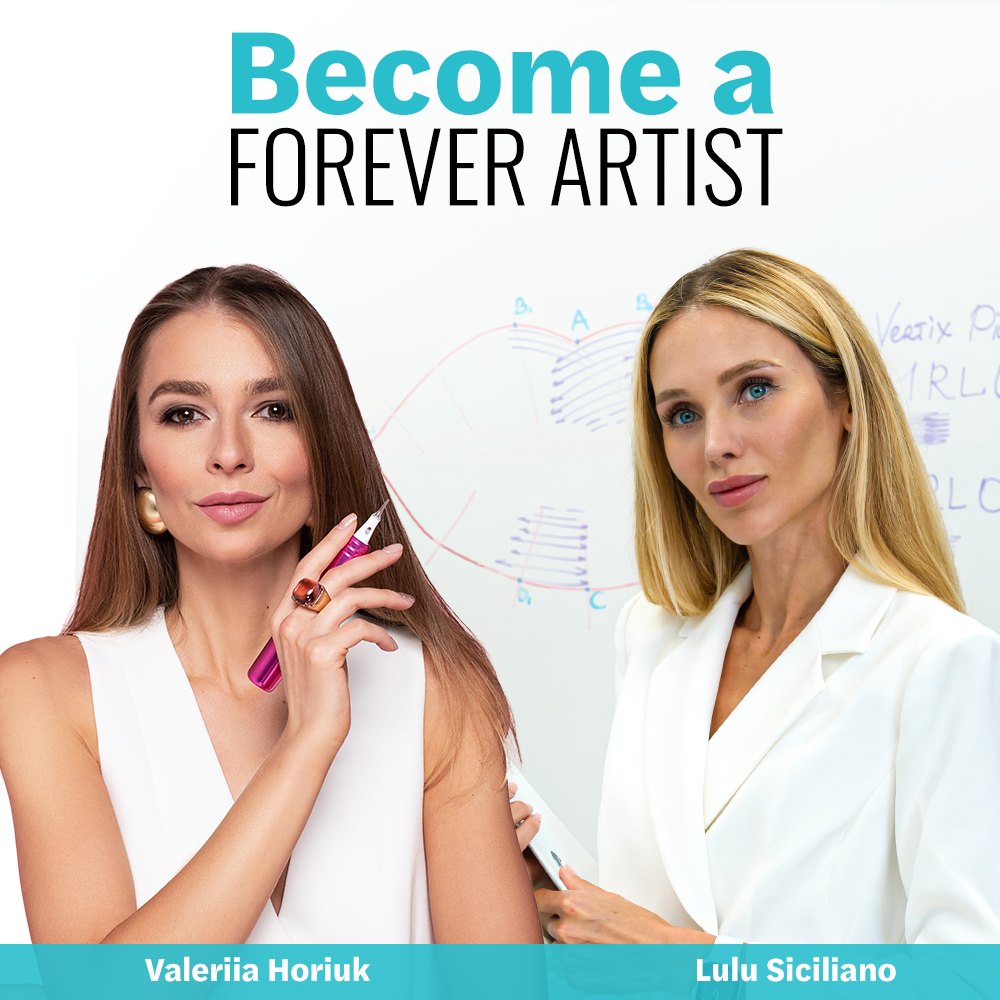 What does it take to make it in the PMU industry? 
You don't become a PMU artist overnight. Every flawless brow, pixel-perfect eye and beautifully shaded lip is the result of countless live trainings, online courses, practice exercises and so much more. In this ever-growing field, education is key. From the machine you use to the type of skin you're working on, PMU artists have to constantly adjust their techniques to achieve the best results for their clients.  
At Microbeau, we like to call these PMU artists, Forever Artists. A forever artist is a forever learner. They prioritize continuous learning while investing in the tools and resources necessary to stay at the top of the industry.  
We sat down with two artists who have not only put in the work to hone their craft but are also teaching the next generation of PMU artists: Lulu Siciliano, founder of Microbeau and PMU Cloud, and Valeriia Horiuk, master artist and trainer of Lero Luxe PMU.
Lulu explores what it means to be a Forever Artist and who inspires her to keep learning while Valeriia breaks down the realities of starting a career in PMU and offers beginners some advice to help them get to the next level.
Lulu Siciliano, Founder of PMU Cloud 
Use code: PMUCLOUD15 for 15% OFF all online courses!
1. What does a forever artist mean to you?  
For me, a forever artist means that you never stop learning. You're discovering something new every day. Even if you have knowledge of the machines, the procedures and everything that's around you, there's always something new because we're working with the skin. Every time, the skin is different. As PMU artists, we must constantly adapt our needle knowledge, color theory understanding, machine speed and hand pressure. It's very interesting and you never get bored. 
2. What courses does your academy offer?  
My academy, PMU Cloud, offers dual language courses in English and Russian. I teach needle theory, color theory, pigmentology, powder eyebrows, lash enhancement, dark lip neutralization and lip blush. I offer classes in person, Zoom and online prerecorded video classes. I also do a lot of conventions and presentations for different topics, and I love to travel internationally to share my experience.   
3. Which PMU artist inspires you? 
There are so many great PMU artists in the industry, but one that has inspired me to learn a new technique is actually Nataliya Yeremenko. She specializes in the hairstroke technique, which I think is always a hot topic, especially for clients who request microblading. I want to keep learning from her. I think it's very important to stay up to date on all the new techniques, trends and everything this field has to offer. 
Valeriia Horiuk, Founder of Lero Luxe Academy  
Use code: MICROBEAU15 for 15% OFF her Mastering Dark Lips Neutralization online course!
www.leroluxe.com/online-dark-lips-class
1. What would you consider a beginner artist and what is some advice you can offer to beginners? 
A beginner PMU artist is someone who's just starting out and doesn't have a lot of practical experience yet. Experience is key, and it only comes with lots of practice. Once you finish your first course, your main focus should be getting some real hands-on experience. Forget about making money at this stage – it's all about learning and improving your skills. You'll want to take at least five models to work on, and trust me, that's when the real learning begins. But don't stop there! Watch YouTube videos, follow other artists on social media, and soak up all the information you can get your hands on. The first year is gonna be tough. But that's the path to mastery. You gotta hustle and keep pushing forward.  
2. How has education played a pivotal role in your professional development as a PMU expert? 
Education has been crucial. After finishing my first training, I felt confident that I had enough knowledge and skills to dive into the world of PMU. However, reality hit hard, and I found myself facing a series of challenges. Instead of using a specialized tool for permanent makeup, I mistakenly used a tattoo machine. I also realized that my understanding of pigmentology was far from comprehensive. I decided to invest in another course, which turned out to be transformative for my career. This not only improved client satisfaction but also fueled my passion for continuous learning. Now, I make it a priority to attend at least 2-3 courses every year. Staying informed of trends, techniques, and industry advancements ensures that I can provide the best service and maintain my position at the forefront of the PMU field. 
3. What motivated you to start offering online courses, and what can students expect to gain from them? 
The decision to start offering online courses was quite organic for me. I started receiving 2-3 messages daily with questions about my dark lip neutralization technique and whether I provided online learning. It made me realize that there was a genuine demand for my expertise in this area. That's when I knew it was time to start offering online courses. For my students, my courses offer much more than just a master class where I demonstrate my work. I take pride in providing them with a step-by-step explanation of crucial moments in pigmentology and guidance on selecting the right devices. My main focus is to ensure they understand the "why" behind each technique. I aim to empower my students with a solid foundation in PMU. It's incredibly rewarding to know that I'm making a difference in their professional journeys. 
4. How many classes do you recommend students to take before they begin practicing PMU on their own?  
The number of classes a student should take can vary based on the quality and comprehensiveness of the courses they choose. As a PMU expert, I recommend total beginners to opt for live training as a starting point. It's also beneficial to select courses that provide supplementary materials and video content. These resources serve as valuable references for refreshing knowledge and reviewing techniques in the future. For example, in my live course, I offer pre-class online training, 3-4 days of in-class training, and around 30 post-class prerecorded videos. After completing the main course, my students can send me their training latexes and practice videos for personalized feedback. This comprehensive approach ensures that students have access to information and support throughout their learning journey.